I'm writing a piece on recent thinking on fiscal policy efficacy, and in looking back at the debate over the American Recovery and Reinvestment Act, I read this choice comment from an Econbrowser reader in September 2009:
After today's unemployment report, and in light of your past running blog fight with Posner, I'm thinking that Q3 GDP is going to come in much, much less than you would have predicted based on stimulus spending. You won't take this as a repudiation of your multiplier theories, but I will.
With hindsight, we can evaluate the pattern of events since that time. In figure 1, I show GDP growth (in log terms, SAAR) and stimulus as a share of GDP.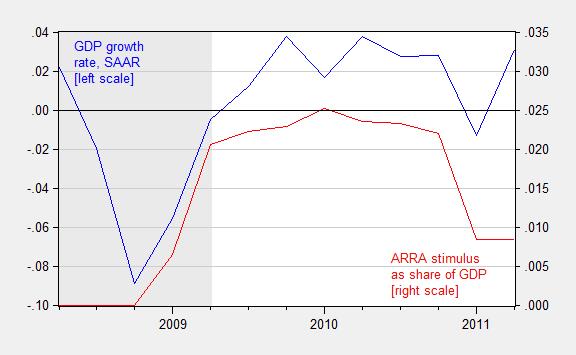 Figure 1:
Quarter on quarter growth rate of real GDP, annualized (blue line, left scale) and sum of total receipt effects (reversed) and total expenditure effects from the ARRA, as a share of nominal GDP, 2008Q2-2011Q2. NBER defined recession dates shaded gray. Growth rate calculated as log first difference. Source:
BEA
and BEA 2013Q3 3rd release, NBER, and author's calculations.
Growth resumed in 2009Q3, as the ARRA kicked in. Given the deep dive that started in 2008Q4, it's either evidence consistent with fiscal policy efficacy, or one heckuva coincidence.
For more on recent thinking on fiscal multipliers, see this piece written for the New Palgrave Dictionary of Economics. More on counterfactuals here.
Oh, and for a good laugh, here's the debate with Posner: [1] [2] [3] and [4] — a cautionary note that the phrase "SAAR" has meaning!
Update, 8:30PM 1/18: Reader Rob asks to see how the UK compared to the US, in terms of post-crisis stimulus. Here is a cross sectional graph of cumulative growth against change in cyclically adjusted budget balance.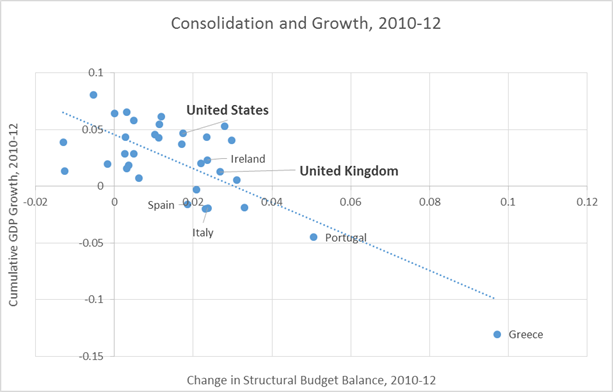 Figure 2:
Cumulative GDP growth 2010-2012 against change in cyclically adjusted budget balance, 2010-2012, in ppts of GDP, for advanced countries. Source: IMF
WEO
October 2013 database and author's calculations