The Bureau of Economic Analysis announced today that U.S. real GDP only grew at a 0.1% annual rate in the first quarter. Some of the reasons for an economic stall appear to be temporary, but it's a very disappointing start to the year nonetheless.
Part of the problem was doubtless an unusually cold winter in much of the U.S. Inventory drawdowns also subtracted 0.57 percentage points from that annual growth rate, meaning that real final sales grew at about a 0.7% annual rate during the first quarter– not great, but nonetheless a sign of some positive underlying growth. Both business fixed investment and new home construction fell in the quarter, which would be ominous developments if they're repeated through the rest of this year. And a big drop in exports reminds us that America is not immune to weakness elsewhere in the world.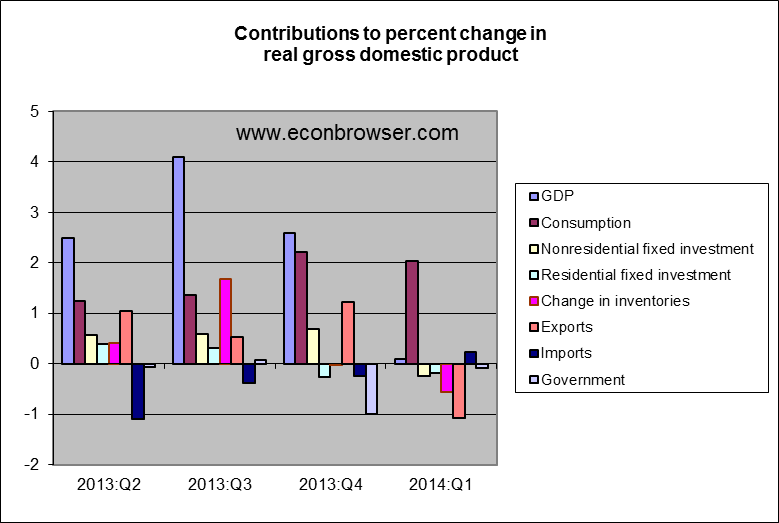 Even the 2% growth in consumption spending is not all that encouraging. As Bricklin Dwyer of BNP Paribas noted, 1.1% of that consumption growth– more than half– was attributed to higher household expenditures on health care.
The economic stall was enough to produce a modest increase in our Econbrowser Recession Indicator Index up to 9.9%. Note that in calculating this index we allow one quarter for data revision and trend recognition. Thus the latest value, although it uses the disappointing GDP numbers released today, is actually an assessment of the state of the economy as of the end of 2013. However, our index is never revised, so that the numbers plotted in the graph below since 2005 are exactly the values as they were reported one quarter after each indicated historical date on Econbrowser.
I am still expecting numbers for the rest of the year to come in much better. But there's no getting around the fact that 2014 got off to a pretty weak start.