The Philadelphia Fed has just released leading indices for the states. Wisconsin growth is forecasted to decelerate from March growth rates, while Kansas forecasted growth is near zero since the beginning of the year.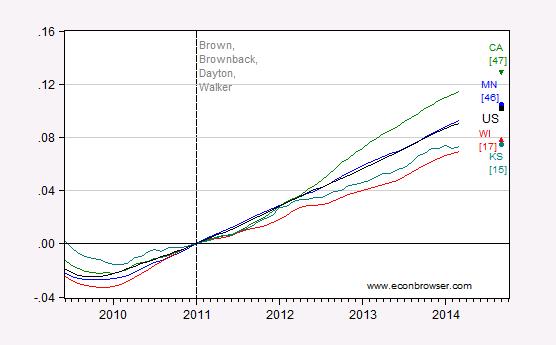 Figure 1: Log coincident indices for Wisconsin (red), Minnesota (blue), Kansas (teal),California (green), and US (black), all normalized to 2011M01=0. Observations for 2014M09 are forecasted levels using leading indices. Numbers in [brackets] indicate ALEC-Laffer 2014 rankings for economic outlook. Source: Philadelphia Fed coincident and leading indices for March, ALEC-Laffer 2014, and author's calculations.
Notice Wisconsin is converging to Kansas's dismal outlook. Wisconsin and Kansas are fairly highly ranked according the ALEC-Laffer index (2014 edition). In contrast, Minnesota, performing on par with the United States since 2011M01 was ranked 46th. And California, far outperforming Wiconsin and Kansas, was ranked 47th. As noted in this post, the correlation between the ALEC-Laffer rank and growth rank is negative, if anything. The forecasts do not upset this characterization.
In Figure 1, I have plotted the indices over a slightly longer period (2009M06 onward) to highlight the remarkable reversal in Wisconsin growth post-2011M01. Notice that Wisconsin growth was faster than Minnesota growth before 2011M01, and then decelerated relative to Minnesota thereafter.
Another notable development is the marked deceleration in the Kansas economy. Since January, growth has stalled, and the forecast is for more of the same. What's with the Kansas economy? The recent report by the Kansas Governor's Council of Economic Advisors is not very illuminating. Here is one take on the phenomenon from Coy/BusinessWeek:
A little more than a year has passed since the first phase of the Brownback tax cuts went into effect on Jan. 1, 2013, so it's possible to make a preliminary assessment of their effects. The early verdict: not too good. The jury is still out on whether lower taxes will stimulate businesses to expand and hire over the long term. But the immediate effect has been to blow a hole in the state's finances without noticeable economic growth.
This sounds remarkably similar to what happened in Wisconsin, at least in macro terms. (See also CBPP.)