A number of states have decided to opt out of expanding Medicaid, despite the fact that for the first three years, 100% of the costs of the Medicaid expansion would be covered by the Federal government. This has a number of fiscal, health and mortality implications.
According to Opting Out Of Medicaid Expansion: The Health And Financial Impacts, by Sam Dickman, David Himmelstein, Danny McCormick, and Steffie Woolhandler, the implication of 25 states opting out of the Medicaid expansion (the incremental costs of which would be covered 100% by the Federal government in the first three years, and 90% as of 2020) would be increased mortality levels of between 7,115 to 17,104, per annum. Even assuming no increase in the number of people who would be covered under the expansion over time (so for instance if population were to stay constant), the cumulative increased mortality count relative to full Medicaid expansion becomes noticeable quickly.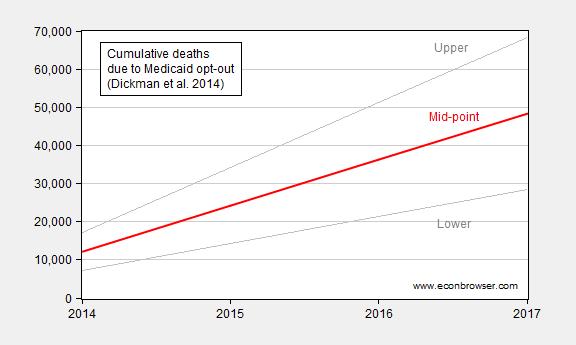 Figure 1: Linear extrapolation of per annum enhanced mortality levels due to Medicaid expansion opt-out, lower and upper (gray lines), and midpoint (red). Source: Sam Dickman, David Himmelstein, Danny McCormick, and Steffie Woolhandler, "Opting Out Of Medicaid Expansion: The Health And Financial Impacts," Health Affairs Blog (Jan 30, 2014), Exhibit 3, and author's calculations.
There is nothing mysterious about how these estimates are obtained. It's essentially:
D = U × Rc × Rm
Where D is the incremental mortalities due to opting out of Medicaid expansion, U is total number of uncovered pre-expansion, Rc is the ratio of uncovered who would be covered by the Medicaid expansion, and Rm is the ratio of the covered who would live that in the absence of coverage would die. Hence, the mechanics are fairly straightforward. Rc is estimated at 7.8 million by Dickman et al. Rc, the ratio that would be covered by expansion, seems fairly straightforward. Urban Institute estimates 5.8 million. There has been some debate over Rm, with individuals from the NC/AEI/Mercatus and Manhattan Institute taking issue with the upper estimate. [1].
Governments in the 25 states indicated in dark blue have decided not to expand Medicaid.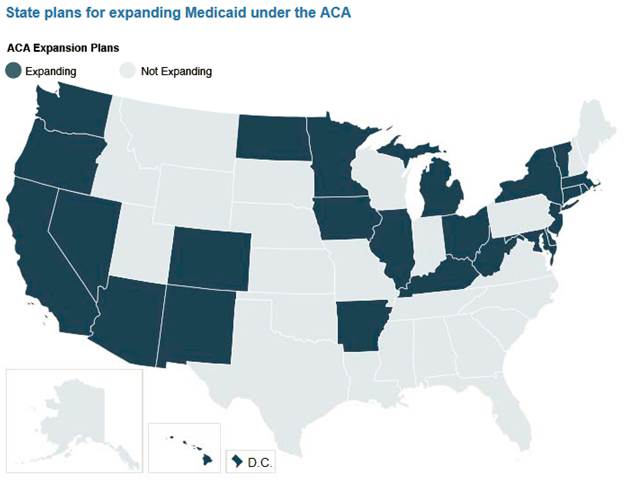 Figure from Urban Institute.
Florida and Texas alone account for nearly 3.3 million of the total 7.8 million of individuals that would be covered were Medicaid to be expanded in the opt-out states. That means mid-point estimates for incremental deaths per annum are 1,700 and 2,450, respectively.
As economists, we want to cast choices in terms of benefit-cost ratios. Doing so in this case, however, does not change the point that it makes sense from an individual state finance perspective, to have expanded Medicaid. CBO has estimated that over the next ten years, the Federal government will pick up over 95% of total costs [2] Indeed, with Federal transfers declining, and state spending for uncompensated care increasing by at least $1 billion in 2016 (estimate is for 14 states opting out),[3] the Medicaid opt out can only be interpreted as being driven by non-economic motives.