In his criticism of the Trans Pacific Partnership, Senator Schumer discussed at length the need to counter currency manipulation, with particular reference to China. (See developments here.)
This is an odd focus, given that China is not involved in the TPP. I'll leave that point aside, and note that it's not clear to me what constitutes currency manipulation. But we can revisit whether the Chinese currency, the RMB, is still undervalued.
Kessler and Subramanian (2014) use a methodology similar to Cheung, Chinn and Fujii [1] [2] for a 2011 cross-country cross-sectional sample, and conclude using a linear specification that the RMB was about 10% undervalued.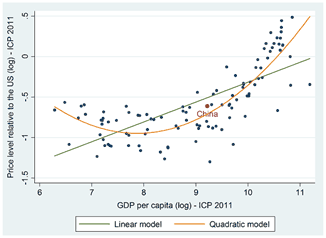 Source: Kessler and Subramanian (2014).
This approach builds on the Penn effect — the fact that the price level is higher (on a common numeraire basis) when per capita income is higher.
While the Chinese yuan against the US dollar is appreciated by about 4% through April 20 relative to 2011, on a trade weighted basis the March 2015 yuan is a full 23% stronger, in log terms.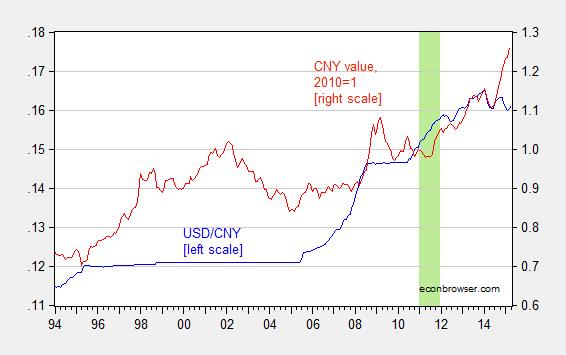 Figure 1: USD/CNY exchange rate (blue, left scale), and CNY trade weighted (broad) exchange rate, 2010=1 (red, right scale). Green shaded area pertains to 2011. Source: Federal Reserve Board via FRED, and BIS.
Now, what is relevant is the inflation adjusted exchange rate. Figure 2 displays the nominal and real CNY (in logs).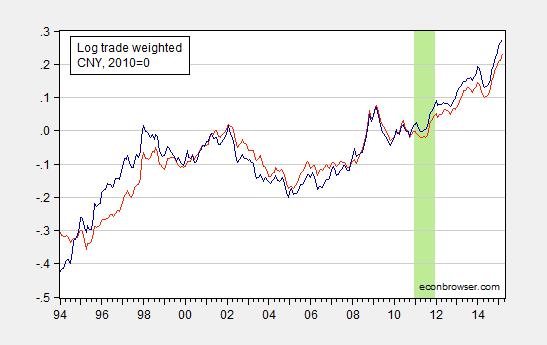 Figure 2: Log CNY trade weighted (broad) nominal exchange rate (red) and real (dark blue), both 2010=0. Green shaded area pertains to 2011. Source: Federal Reserve Board via FRED, BIS, and author's calculations.
As indicated in the figure, the real trade weighted exchange rate is now about 25% (log terms) above 2011 levels. Now it's true that per capita income has risen relative to US in the intervening three years. Chinese per capita income in PPP terms has risen 22%, US by 4%, so the change is 18% (all calculations in log terms). Using the coefficients obtained in Cheung, Chinn and Fujii (2007), centered around 0.3, one finds the implied appreciation of about 5%, much less than the 25% observed.
Hence, I find the argument that the CNY is extremely undervalued somewhat questionable, at least on the price criterion. For discussion of alternative methods of estimating RMB equilibrium exchange rates, see this post.
Update: And here is the current account balance expressed as a share of GDP.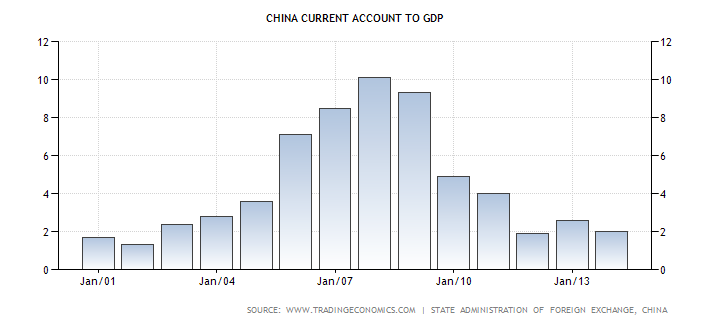 Figure 3: From TradingEconomics.
Update, 4/25 6PM Pacific: I should clarify one point: given the great degree of uncertainty surrounding Penn effect defined estimates of equilibrium exchange rates, I cannot rule out the possibility that the RMB remains undervalued.
In addition, informed sources tell me that the PPI deflated real value of the CNY exhibited much less appreciation. That would be relevant, if one were using a trade flow based measure of misalignment.