After a catastrophic failure to attract Asian-American votes in the 2012 presidential election [1], the RNC has dedicated itself to capturing a larger share of this bloc; Jeb Bush has argued that Asian-Americans constitute a natural Republican constituency.[2]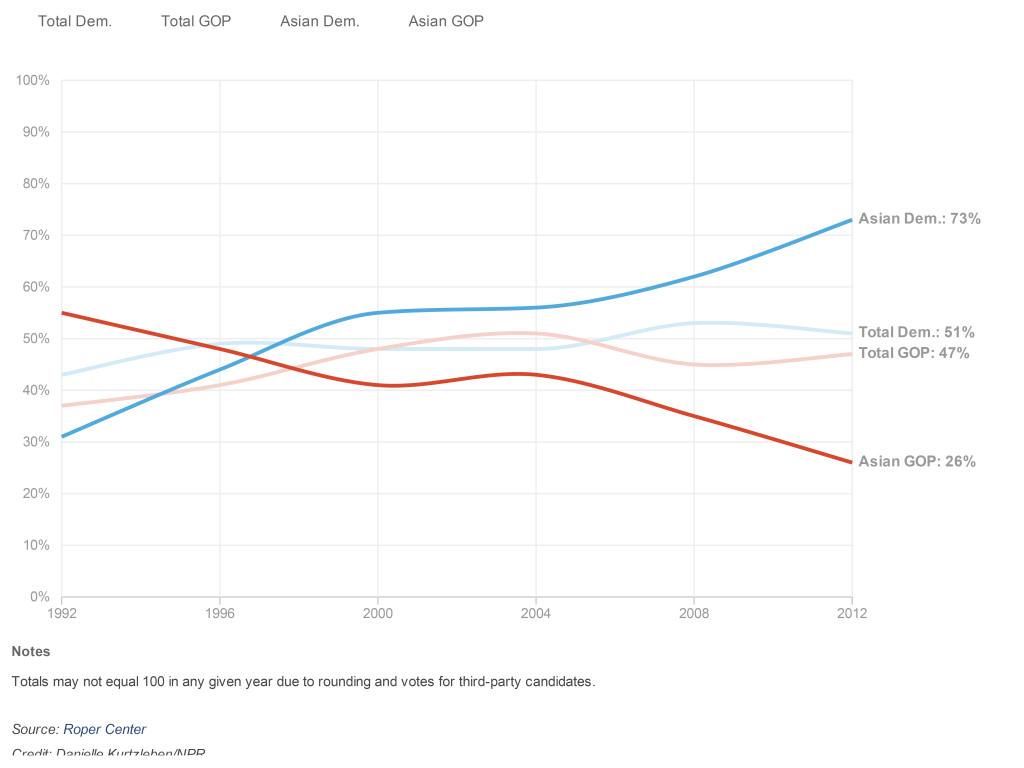 Source: NPR (Sept. 16, 2015).
However, it's not clear there's yet been much progress. From Monkey Cage/WaPo:
When Joseph Choe, an Asian-American college student, stood up to ask a question about South Korea [at a No Labels conference], Donald Trump cut him off and wondered aloud: "Are you from South Korea?"

Choe responded, "I'm not. I was born in Texas, raised in Colorado." His answer prompted laughter from the audience, and nothing more than a shrug from the GOP presidential candidate.

..

A fellow conference attendee who walked by Choe subsequently joked, "You're gonna have to show him your birth certificate, man!"
A study by Kuo, Malhotra, and Mo is summarized thusly:
We posit that rhetoric from Republicans insinuating that nonwhite "takers" are taking away from white "makers," as well as their strong anti-immigrant positions, has cultivated a perception that the Republican Party is less welcoming of minorities. Since the Democratic Party is seen as less exclusionary, we find that triggering feelings of social exclusion makes Asian Americans favor Democrats.

We conducted an experiment in which Asian Americans were brought into a university laboratory. Half were randomly subjected to a seemingly benign racial microaggression like Trump's clueless remarks to Choe before being asked to fill out a political survey. The white assistant was instructed to tell half of the study participants, "I'm sorry. I forgot that this study is only for US citizens. Are you a US citizen? I cannot tell."

Asian Americans who were exposed to this race-based presumption of "not belonging" were more likely to identify strongly as a Democrat. They were also more likely to view Republicans generally as close-minded and ignorant, less likely to represent people like them, and to have more negative feelings toward them.
I think it's wrong to say that these types of alienating comments are specific to Mr. Trump. Other candidates have also made statements unlikely to help garner Asian-American support (NPR):
"They're seeing which party seems like a welcoming party, which party seems like an exclusionary party," said Ramakrishnan. He added, it doesn't help when a Republican presidential candidate like former Florida Gov. Jeb Bush attempts to clarify his use of the term "anchor babies" — which many Latinos find offensive — by redirecting the conversation to Asians.

"[Bush] did it in a way that cast an entire stereotype that this is how the Asian-American community is," said Christine Chen, director of Asian-Pacific American Islander Vote, a nonpartisan organization that mobilizes Asian voters. "The Asian-American electorate is immediately starting to take note of all the China bashing, the comments with Jeb Bush as well as the current criticism of China."
This is a somewhat different perspective than the one I laid out three years ago.
Update, 11/4, 7am Pacific: An interesting take by a Republican Asian American, from the Daily Caller. Take a look at the text in bold face, as the writer tries to educate her fellow Republicans. (I can only imagine her frustration…)