The American Community Survey data for 2014 are out (h/t Samuel). Real household family income in Wisconsin continues to decline relative to that in Minnesota.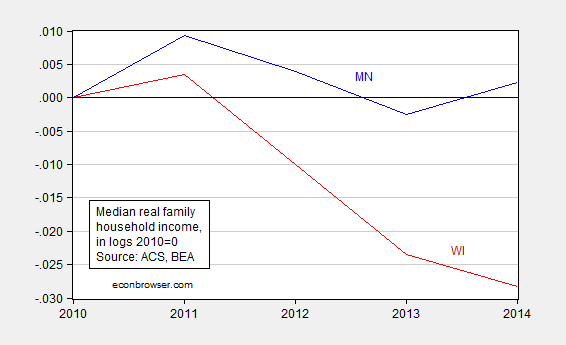 Figure 1: Log family household income, 2009=0, for Minnesota (blue), and Wisconsin (red). Deflation using core consumption deflator. Source: BuCensus/American Community Survey and BEA via FRED, and author's calculations.
Some individuals have touted trends in Wisconsin's median household income relative to Minnesota. The Census Bureau warns researchers from doing intertemporal comparisons using the standard series (e.g., available on FRED), given data breaks due to different methods of interpolation. Here I plot the American Community Survey (ACS) series for Minnesota and Wisconsin, which are not subject to the same problem of comparability, and are estimated with greater precision due to larger sample sizes.