Where are the factcheckers when you need them?
From the Milwaukee Journal Sentinel:
"There are more people working in Wisconsin than at nearly any other point in our history; state finances are stable; our school students are doing well overall; college tuition is frozen; and property and income taxes are down from 2010," Walker told lawmakers in a 40-minute speech.

The state budget remains relatively tight — and Senate Majority Leader Scott Fitzgerald (R-Juneau) said Tuesday that new estimates on tax revenues would leave it still tighter.

"It sounds like the projections are going to be far shorter than what we anticipated, although we don't know what the number is going to be yet," Fitzgerald told reporters after the speech. "It's not going to be the $150, $160 million (surplus for the two-year budget) that we thought we'd be working with."
A quick glance at BLS statistics does not confirm the Governor's assertion.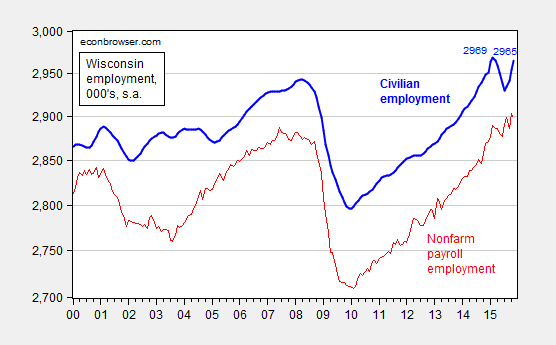 Figure 1: Wisconsin civilian employment (blue) and nonfarm payroll employment (red), in 000's, seasonally adjusted. Log scale. Source: BLS.
While the nonfarm series in November is 12,000 above 2007M06 levels, this more accurately is an enumeration of jobs rather than employed persons. (And in any case, the November figure is 4,800 below the October levels, the record high.) The civilian employment series, from the household survey, indicates November 2015 employment remains 4,000 below February levels. This series more specifically refers to employment of individuals.
Certainly, taking into account sampling error, one would not be able to say that employment, by either count, is the highest it has ever been. (One month standard deviation of changes in establishment series is 5,488 [1])
Of course, this all sidesteps the fact that Wisconsin employment is less than what would be expected on the basis of historical correlations with national employment.