That's the title of a Slate article documenting the implications of recent policy actions implemented in the state of Wisconsin.
What's at stake here is the total loss of the public research university. Anyone with functioning eyes and a pulse knows that most U.S. states barely fund their universities anymore, relying instead on ballooning tuition and big donors, both private and corporate. …

But the situation in Wisconsin is worse than your garden-variety corporatization. You might assume it's no big deal for superstar researchers to be competed for, hired, and fired like executives—and for everyone else to "just get a better job" if they don't like what they've got. That might be how it works at your job, if you are lucky enough to have one. I understand this impulse to look around at your own likely weak labor protections, and wonder why those obnoxious hoity-toity professors think they deserve better than you.

But academics don't want tenure because they think they're better or smarter than you. Academics, whether they have it or not, want some form of tenure to exist to protect the integrity of the knowledge that is produced, preserved, and disseminated.

Wisconsin professors simply do not want research limited by the whims of 18 people appointed by a governor with an openly stated anti-education agenda. And you shouldn't, either. Think university research doesn't affect you? You're wrong. Hundreds of technological and social advances that you depend upon have been made thanks to the research of some brainiac at some university somewhere: what kind of cities to plan; how (and where) to alleviate poverty and hunger; what kind of diseases to treat; what kind of drugs to invent (or make obsolete); what kind of bridges and roads to build (and where). If professors are not protected from disagreeing with the agenda of their "bosses"—whether that be Dow Chemical, Gov. Walker, or President Trump—the consequences will go far beyond one person's paycheck.
Perhaps it's not too late for me to start writing on how, despite slower than expected employment growth (and recent negative growth), the Wisconsin economy is actually doing just great.
What do tech leaders think? From the Wisconsin State Journal:
A $250 million cut in state funding to the University of Wisconsin System over the next two years could do great harm to Wisconsin's economy, Madison area tech leaders said.

…

"The (technology) ecosystem just gets richer and stronger as time goes by," said entrepreneur Sikes, who has started several art-related businesses. But $58.9 million worth of "severe" cuts to the UW-Madison budget, authorized by the Legislature and Gov. Scott Walker, are "a dark cloud," she added. "Everybody in this room is affected."

"To me, that is the biggest thing that happened in the last year," said Neis, whose firm focuses on early-stage companies. "I have tremendous concerns about the future of the university and the impact of the depth of the cuts."

Recruiting and retaining the best faculty members are important for innovation to continue, said Neis. "It is such a powerful force in this ecosystem," he said.

"The changes won't be felt right away," he said. Rather, the impact on research projects might be felt over the course of a decade. "And I'm worried, two years out, that some could argue that, 'See, the sky didn't fall, everything's OK,' when, in fact, it is falling and we just don't notice it, yet."
More concretely, we have evidence that faster growth is associated with a larger stock of human capital.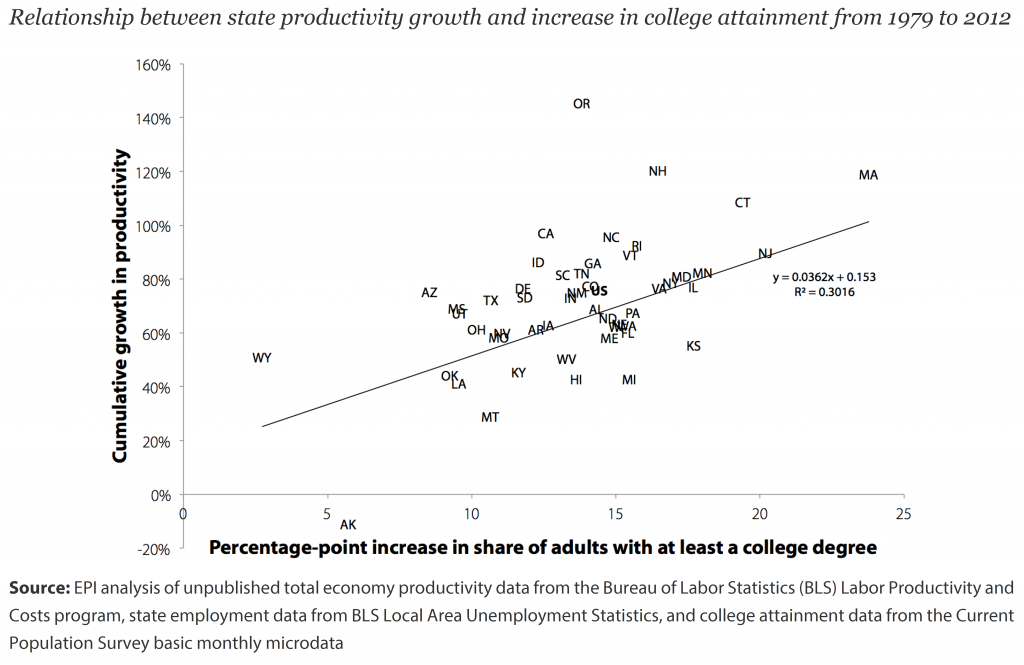 Source: Berger-Fisher (2013).
In this regard, I find it interesting that in the drive to defund the University of Wisconsin system, the state seems to be moving in the exact opposite direction of re-orienting the Wisconsin economy away from manufacturing industries that are experiencing increasing competition from abroad, and slowing demand growth from at home.