EconoFact is a non-partisan publication, online starting today, designed to bring key facts and incisive analysis to the national debate on economic and social policies. It is written by leading academic economists from across the country who belong to the EconoFact Network, and published by the Edward R. Murrow Center for a Digital World at The Fletcher School at Tufts University. The co-editors are Michael Klein and Edward Schumacher-Matos.
Inaugural memos tackle Trump's promise to bring back manufacturing jobs, the prospects for the big, beautiful wall, charter schools, the destination based border tax, whether the trade deficit is a drag on growth, and whether China is now manipulating its currency.
Here is a graph from the Chinn-Klein memo on trade deficits: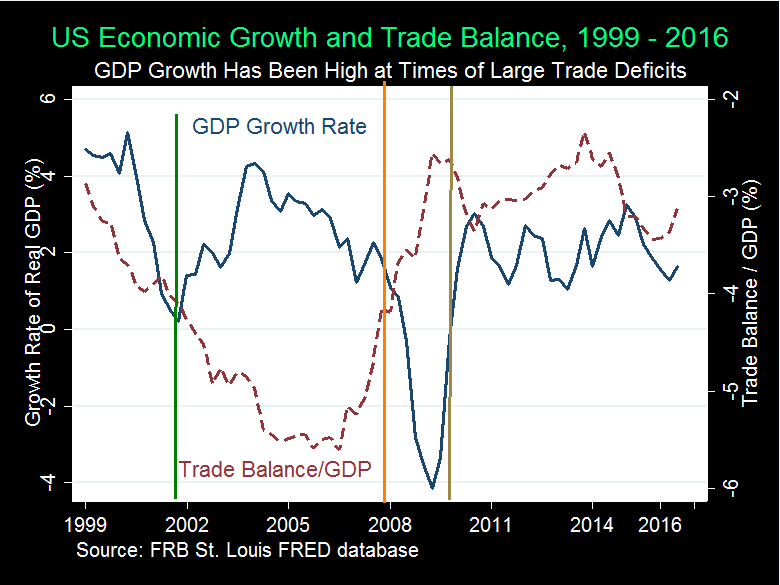 New memos will appear as conditions and proposals warrant.
Memos Currently Online



Will Manufacturing Jobs Come Back? David Deming, Graduate School of Education and Kennedy School of Government, Harvard University

Is the Trade Deficit a Drag on Growth? Menzie D. Chinn, Robert M. La Follette School, University of Wisconsin-Madison and Michael W. Klein, Fletcher School, Tufts University

House GOP Plan Aims to Boost Competitiveness, May Also Violate International Trade Laws Joel P. Trachtman, Fletcher School, Tufts University

Is China a Currency Manipulator? Michael W. Klein, Fletcher School, Tufts University

Should the United States Build a Wall on the Mexican Border to Reduce Unauthorized Immigration? Jennifer Hunt, Rutgers University

Charter Schools: The Michigan Experience and the Limited Federal Role Nora Gordon, McCourt School of Public Policy, Georgetown University

Website: Econofact.org
Twitter: @EconoFactOrg