From Bloomberg:
President Donald Trump's administration is considering a new tactic to discourage China from undervaluing its currency that falls short of a direct confrontation…
Under the plan, the commerce secretary would designate the practice of currency manipulation as an unfair subsidy when employed by any country, instead of singling out China, the newspaper reported. American companies would then be in a position to bring anti-subsidy actions to the U.S. Commerce Department against China or other countries, it said.
I don't understand how this will apply to China at the moment. If Chinese reserves were rising because of PBoC intervention in the forex market, then one might be able to make the argument that — by buying dollar assets — the yuan is weaker than the value determined by supply and demand. But they're not. Reserves have just dipped below $3 trillion.[1]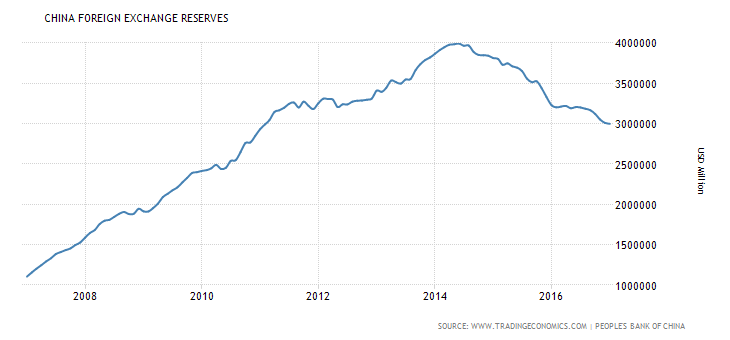 Source: TradingEconomics, accessed 2/13/17.
So whatever forex intervention China is implementing now — to some that's manipulation — it's pushing up the value of its currency. So I don't know how this new plan is going to do anything to solve "the" problem (and in this case I'm not sure there is a real "problem" to be addressed).
I look forward to the plan to label the Bundesbank a currency manipulator (!).