From Head and Mayer, "Brands in motion: How frictions shape multinational production", an examination of how the auto industry fares if Nafta is terminated:
In the end-of-NAFTA scenario, depicted in orange in Figure 7, all three members reduce [auto] production.
The gain in US production for its home market is now dominated by the
lost sales to Canada and Mexico, resulting in an overall fall of 0.9%. This is much smaller than the drops in the two partners' production, with Canada losing 24%, and Mexico 17% due to the loss of their favored status in the US market. This joint loss represents nearly one percent of world production, roughly equally shared between Canada and Mexico, whereas a similar total decrease is entirely borne by Mexico in the Trumpit [35% tariff on Mexico plus retaliation] scenario.

The Canadian and Mexican outcomes further worsen due to increases in delivered
costs of tangible and intangible … inputs suffered by US-owned plants. The two partners concede sales in the US market, in their respective domestic markets, and most importantly, in ROW markets. As a consequence, production in Korea, Japan, Germany, and Belgium rise not only because of higher sales in NAFTA, but also because of higher
market shares in ROW markets.
Losses in production, consumer surplus, shown below: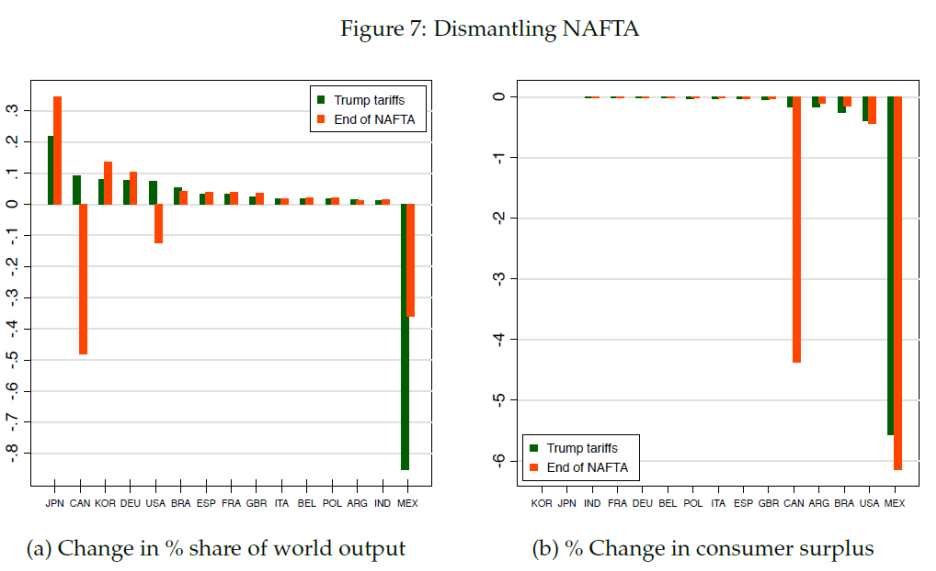 As a consequence of ending Nafta, "…production in Korea, Japan, Germany, and Belgium rise not only because of higher sales in NAFTA, but also because of higher market shares in ROW markets."
Notice that under "Trumpit" US production does increase, but in both scenarios — Trumpit and end-of-Nafta — US consumer surplus declines. If consumer welfare is important, then these estimates suggest ending Nafta (or imposing 35% tariffs) would be contra-indicated. And ending Nafta reduces US auto production…(Of course, if policy is driven by an atavistic desire to "make Mexico pay" in a generic sense, then then either accomplishes the objective.)
(h/t Alan Spearot for bringing my attention to this paper.)