[Correction to title: it's been pointed out that the National Guard will not necessarily be empowered to actually deport individuals; they can only have "authority to investigate, identify, apprehend, arrest, detain and conduct searches". The actual deportation (transportation to port or border) would presumably be undertaken by other agencies. MDC 2/18 10:51AM Pacific]
What are the fiscal and economic implications?

From Associated Press:
The Trump administration considered a proposal to mobilize as many as 100,000 National Guard troops to round up unauthorized immigrants, including millions living nowhere near the Mexico border, according to a draft memo obtained by The Associated Press.

Staffers in the Department of Homeland Security said the proposal had been discussed as recently as last Friday.

The 11-page document calls for the unprecedented militarization of immigration enforcement as far north as Portland, Oregon, and as far east as New Orleans, Louisiana.
…
The non-classified memo is here. Should that document disappear, here is another copy. The relevant text is here:

From NYT today:
Sean Spicer, the White House press secretary, said Friday morning that the report by The A.P. was "100 percent not true."

"It is false," he said. "It is irresponsible to be saying this."

He told reporters traveling with the president to an event in South Carolina that "there is no effort at all to round up, to utilize the National Guard to round up illegal immigrants." He added that "I wish you guys had asked before you tweeted."

An A.P. reporter noted that the news service asked for comment multiple times before the article was published.
I have not been able to obtain cost estimates, which surely depend on the duration of mobilization, and the nature of operations that will be conducted by the National Guard units. I will add cost estimates as they become available.
For discussion of costs of deporting 11 million undocumented immigrants, see this post.
Update, 2:30pm: WaPo delves into why the states designated in the memo don't match up with undocumented immigrants: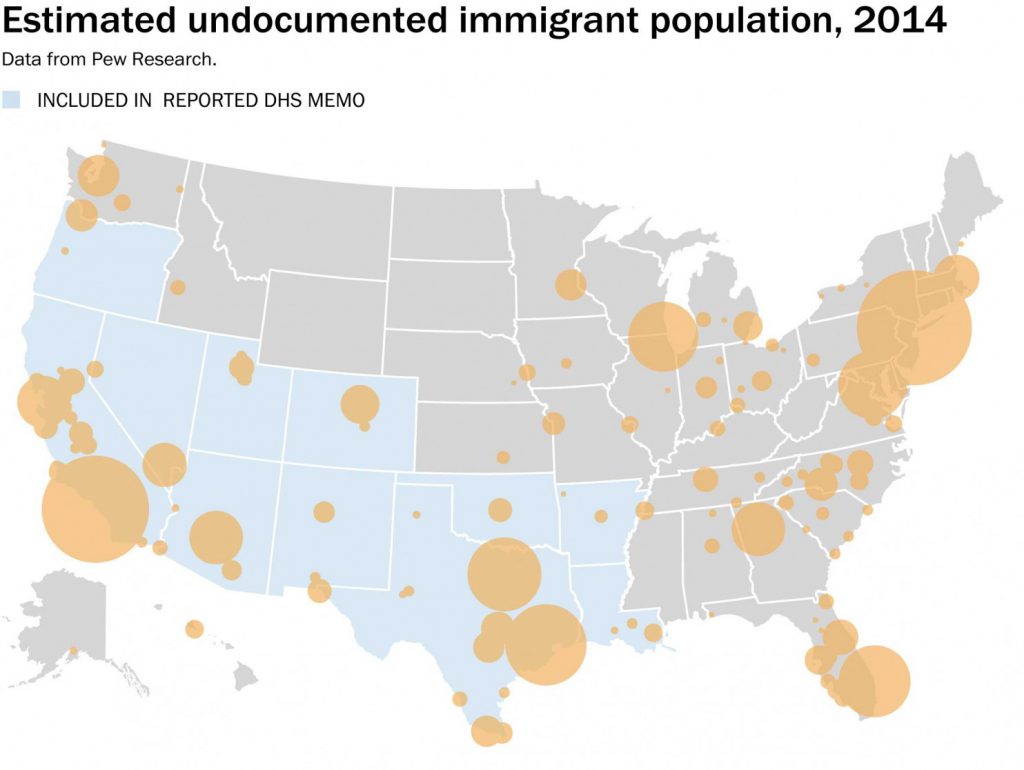 Update, 2/18 1:30PM Pacific: Who is left at NSC to fire? From Politico:
The White House abruptly dismissed a senior National Security Council aide on Friday after receiving reports that he had publicly laced into the president and his senior aides, including son-in-law Jared Kushner and daughter Ivanka Trump at an event hosted by a Washington think tank.

The aide, Craig Deare, was serving as the NSC's senior director for Western Hemisphere Affairs. Earlier in the week, at a private, off-the-record roundtable hosted by the Woodrow Wilson Center for a group of about two dozen scholars, Deare harshly criticized the president and his chief strategist Steve Bannon and railed against the dysfunction paralyzing the Trump White House, according to a source familiar with the situation.
…
Deare was a political appointee who came to the NSC after Trump's inauguration from National Defense University, where he had served as the dean of administration.
Wow. Just wow. To paraphrase… no one expects the NKVD.
Update, 2/19 3:45PM Pacific: A Back-Channel Plan for Ukraine and Russia, Courtesy of Trump Associates, NYT