Steven Kopits, in response to my caution over using state level household based employment series, writes:
If you are telling me you're smarter than BLS, go ahead.
Well, I don't think I'm smarter than BLS. I just think it's a good idea to know what kind of imprecision is associated with the series one works with — so without further ado, here are two vintages of household survey based civilian employment for Kansas. Tell me what you think…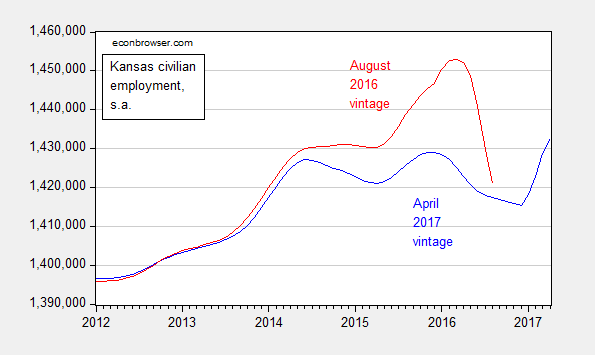 Figure 1: Kansas civilian employment, from April 2017 release (blue), and August 2016 release (red), seasonally adjusted. Source: BLS.
So, I'd take that surge in employment growth with a grain of salt…
I've mentioned this point about state level employment and labor force series, particularly for states with relatively small populations, following on Wolfers' discussion.
To conclude, know your data! Not that the Brownback boosters will heed the call.
A picture of the nonfarm payroll series for Kansas (disastrous) vs. Missouri and the Nation, see here.
Update, 10AM Pacific: Steven Kopits has responded to this post on an earlier thread, so I reproduce below:
Let me also comment more broadly on the matter of credibility.

You may think that you are advancing liberal causes with attacks on Kansas governance. However, when I revert to the actual statistics, and see your claims are at best misleading, it calls into question your motivation and credibility. And this is the more so when we extend these posts to a longer stretch, with memories of the joys of 'good' Minnesota v 'bad' Wisconsin.

I am frankly accustomed to your spin by now, but conservatives will not draw the lesson you intend. Rather than question their ideological or policy orientations, they will take away the lesson that the left is well prepared to lie to them. And I mean this more broadly, not just to you specifically, but to the likes of CNN, MSNBC, the NYT and NPR, as well.

The left has no monopoly on spin, and Fox has become all but unwatchable when they are in a mood to slavishly support the President in the face of the most patent transgressions. Hence the surge in MSNBC ratings as those of us in the middle feel around for someone to give it to us straight, or at least straight-ish.

Nevertheless, the net result of all this partisanship is the implosion of belief in the press and any number of analysts as detached observers of the political scene. No one — or very few — retain credibility in this world.

I do not know whether this is compatible with democracy in the longer run.
Here is my response.