The IMF released an update to WEO today: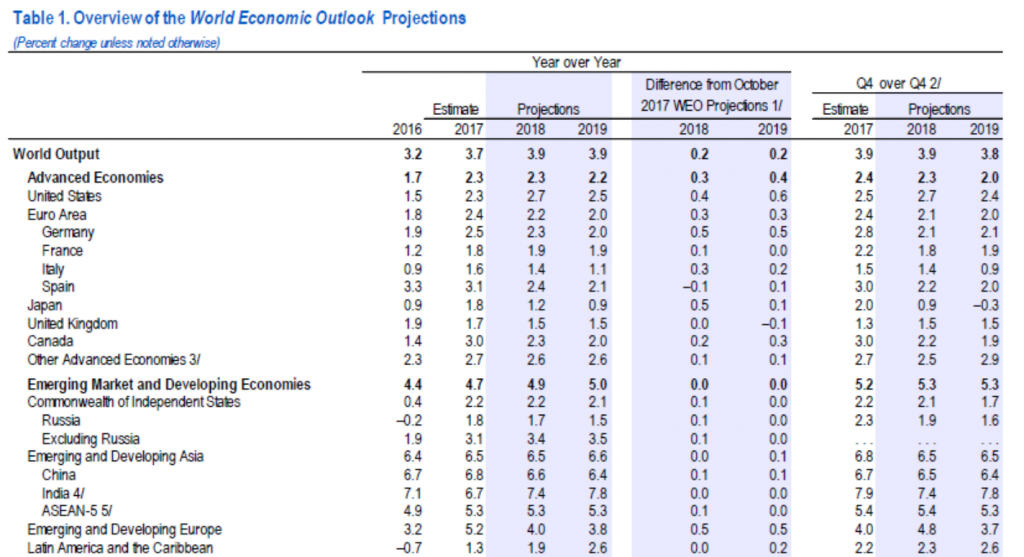 Source: IMF, WEO (January 2018).
From the report:


Buildup of financial vulnerabilities. If financial conditions remain easy into the medium term, with a protracted period of very low interest rates and low expected volatility in asset prices, vulnerabilities could accumulate as yield-seeking investors increase exposure to lower-rated corporate and sovereign borrowers and less credit-worthy households. As noted in the October 2017 Global Financial Stability Report, the share of companies with low investment-grade ratings in advanced economy bond indices has increased significantly in recent years. Non-financial corporate debt has grown rapidly in some emerging markets, calling for a policy response. The Chinese authorities have made a welcome start by recently tightening the regulation of non-bank intermediation. Credit risks on these exposures may be hidden while near-term global growth momentum is maintained and refinancing needs remain low. The absence of near-term warning flags, in turn, may reinforce yield-seeking behavior and amplify the buildup of financial vulnerabilities that come to the fore over the medium term.
Interesting to me is this non-financial threat:
Inward-looking policies. Important long‑standing commercial agreements, such as NAFTA and the economic arrangements between the United Kingdom and rest of the European Union, are under renegotiation. An increase in trade barriers and regulatory realignments, in the context of these negotiations or elsewhere, would weigh on global investment and reduce production efficiency, exerting a drag on potential growth in advanced, emerging market, and developing economies. A failure to make growth more inclusive and the widening of external imbalances in some countries, including the United States, could increase pressures for inward-looking policies.
This point takes on heightened relevance in light of this article from The Hill, Battered in 2017, trade may face Trump's full wrath in 2018:
At the end of one year of President Trump, one could conclude that the trading system, while somewhat battered, remained intact.

However, risks of trade actions are higher this year for three reasons. First, various political considerations that stayed Trump's hand on trade no longer exist, in particular the focus on repealing the Affordable Care Act and passing corporate tax cuts.

Second, the Section 232 process has been finalized, and the Section 301 process will conclude shortly, creating a legal basis for action. Third, there is a growing political imperative for Trump to show more aggressive trade action.

…

Chances of Trump pulling the U.S. out of NAFTA are higher. Trump sees leaving NAFTA as a clever negotiating tactic that could force Mexico and Canada to agree to U.S. demands. This could be bluster, as he did not mention NAFTA withdrawal in his January 2018 speech at the American Farm Bureau Federation's convention.

Pursuing such a strategy could lead to the end of NAFTA. …