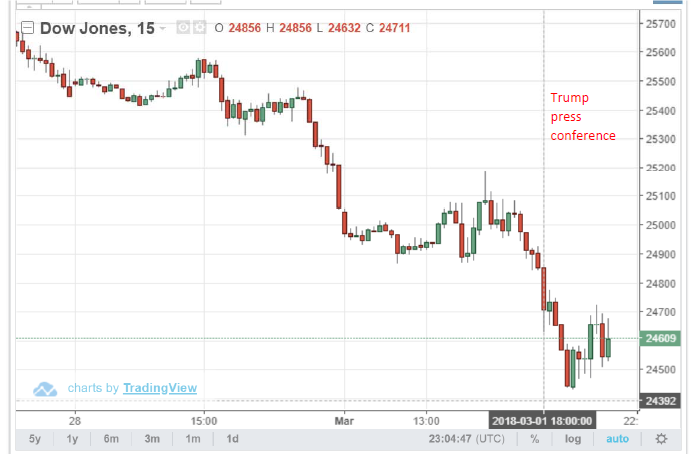 Figure 1: Dow Jones, 15 minute increments. Source: TradingEconomics.
From Bloomberg:
The S&P 500 Index briefly fell below its 100-day moving average while the Dow Jones Industrial Average dropped more than 400 points as Trump added to earlier confusion on the fate of proposed tariffs by announcing the levies in a meeting with industry executives. The Institute for Supply Management called the proposal a "big mistake." European Commission President Jean-Claude Juncker said Europe will respond "firmly" to any new tariffs. And Federal Reserve Chairman Jerome Powell earlier praised the benefits of trade.
It's at times like this I refer to this passage, from Peter Navarro, The Policy Game (Wiley, 1984), p.82.
National Security Benefits and Costs. On the benefit side, protectionism within certain basic industries like autos, steel, and electronics helps to create and sustain and industrial base that, in times of war or national peril, can be shifted to defense purposes. However, this national security argument–and the existence of any benefits resulting from protecting these industries–can legitimately be called into question for several reasons.

First, the existence of any sizable benefits rests on the assumptions that import competition in our defense-related industries would not only reduce the size of these industries but also shrink them to the point where they would be too small to support our defense needs…

Second, it is highly possible that our defense capability might actually be enhanced–not damaged-by import competition. Without the umbrella of protectionism, our defense-related industries would be forced to operate at lowest cost, engage in more research and development, aggressively innovate to stay one step ahead of the competition, and modernize their plants at a faster pace. …

On the national security cost side, the major effect of protectionism is to threaten the stability of the international economic order through a global trade war. …
(Full disclosure: I was research assistant on this book.)
Addendum: Chad Bown assesses.