There seems to be some confusion regarding the distinction between trade balance in goods and services (a typical macro variable of interest) and trade balance in goods (more commonly reported, but less and less relevant on its own as countries become more service intenstive). In order help remedy this confusion, I plot below freely and easily accessible data, for those willing to expend a few calories to click.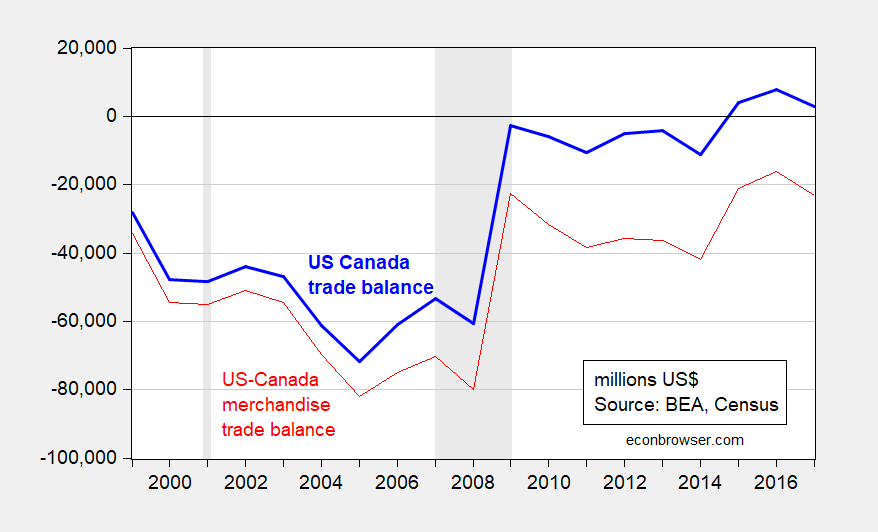 Figure 1: US-Canada bilateral trade balance (bold blue), and merchandise trade balance (red). NBER defined recession dates shaded gray. Source: BEA/BuCensus (Tables 3 and 6), NBER.
The Canadian estimate of the US-Canada deficit differs from the US along a variety of dimensions (definitions, coverage, etc.). A detailed discussion and reconciliation for 2010-2011 is provided in this 2013 BEA article, which deals (among other things) with re-exports. (Dean Baker deals discusses re-exports but not other aspects of reconciliation.)
Old Fogie Rant at 11:35PMAM Pacific: People keep on asking me where the data are from, or for me to compile the relevant series and post the corresponding workfile or Excel file. If I had an RA for this blog, I would — but I don't make any money off of this blog to fund such an enterprise — so here are some links where pretty much all the data I plot are from.