DWD released April figures today. Nonfarm payroll employment fell 1000, private nonfarm payroll employment by 3000 (seasonally adjusted). Corresponding March figures were revised down by 400 and 700, respectively. Minnesota's April numbers were down as well, as described here.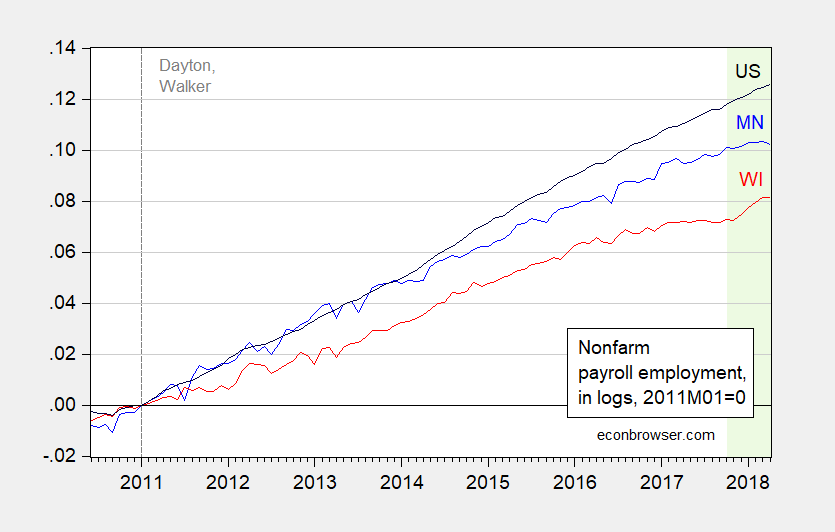 Figure 1: Nonfarm payroll employment in Minnesota (blue), Wisconsin (red), and US (black), all in logs normalized to 2011M01=0. Light green shaded dates indicates data not yet benchmarked using QCEW data. Source: WI DWD, MN DEED, BLS and author's calculations.
A comparison against Wisconsin's other neighbors is here (through February; BLS will release data for all states tomorrow).
One needs to be cautious in interpreting recent data, let alone one month's worth. In this regard, it's important to remember that the data since October of 2017 does not reflect additional data obtained from the Quarterly Census of Employment and Wages (QCEW) and other sources. Wisconsin's overall nonfarm payroll employment numbers were substantially revised as of the January 2018 release. (A similar caveat applies to Wisconsin manufacturing employment).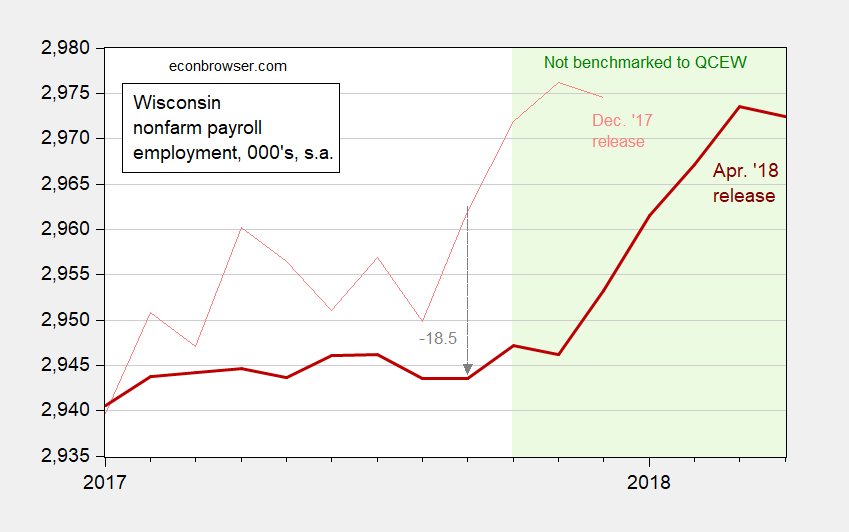 Figure 2: Wisconsin nonfarm payroll employment, April 2018 release (dark bold red), December 2017 (pink), 000's, s.a, on log scale. Light green shaded period denotes data benchmarked to QCEW data. Source: BLS.
Private nonfarm payroll employment as of April is still 9,700 below the promised 250,000 new jobs by January 2015 that Governor Walker recommitted to in August 2013.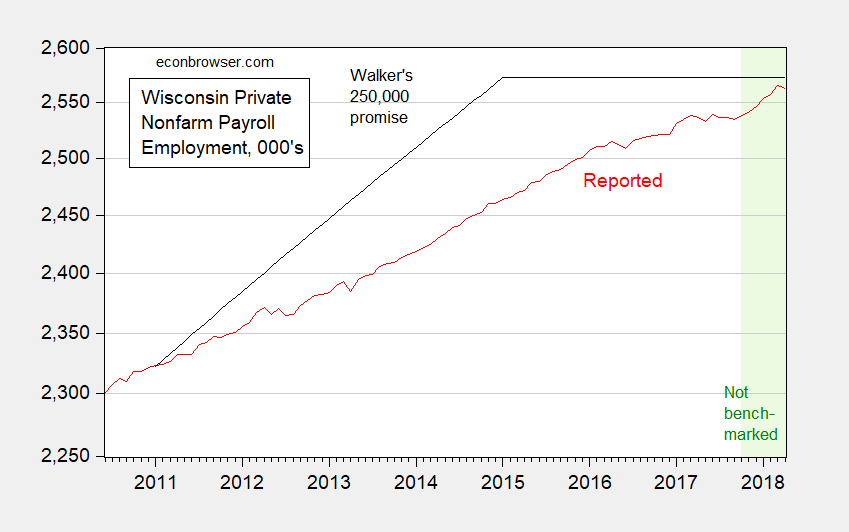 Figure 3: Wisconsin private nonfarm payroll employment (red), and Governor Walker's promise of 250,000 new private jobs by end of first term (gray line), 000's, s.a. Light green shaded period denotes data not yet benchmarked to QCEW data. Source: BLS, author's calculations.