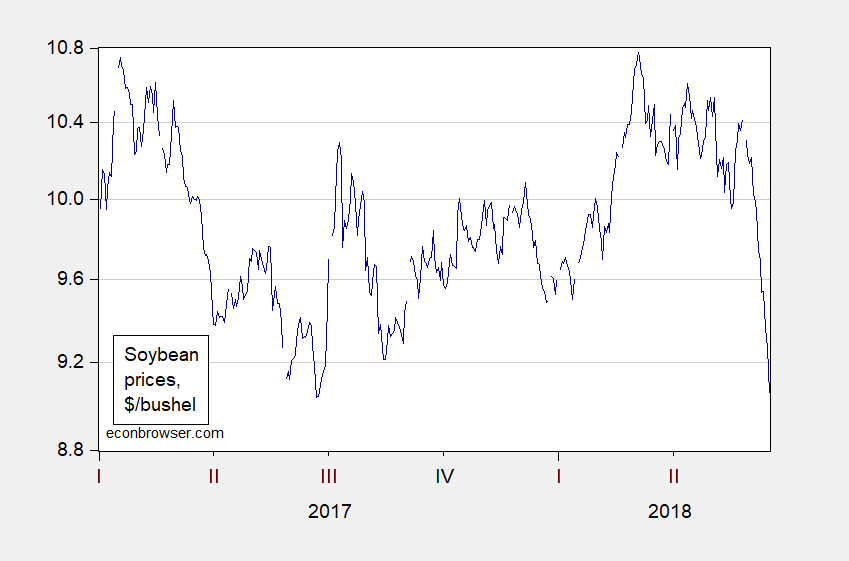 Figure 1: Soybean prices, daily, $/bushel (dark blue). Source: MacroTrends, accessed 6/16/2018.
In examining the free-fall in soybean prices, reader CoRev argues for ag conditions and the dollar:
Menzie, as a scientist you are failing. You have shown a clear bias as Trumps Tariff threats and implementations as the MAJOR cause and a tendency to select only data and periods for it that support that bias. A longer look at the data shows USDA harvest projections have a higher and quicker price impact than trade barrier impacts. Don't get me wrong trade barriers do impact pricing in the long run, but quick drop like this in recent history are influenced more often by harvest projections. Steep price drops occurred in 2013 and again in 2015 after USDA projected increased harvests.

So what was the June 12 2018 USDA harvest projection: " Price forecasts for 2018/19 are unchanged this month. The 2018/19 season-average price for soybeans is forecast at $8.75 to $11.25 per bushel; soybean meal and oil prices are projected at $330 to $370 per short ton and 29.5 to 33.5 cents per pound, respectively….
A higher trend yield for the 2018/19 Brazil soybean crop reflects harvest and yield results for the 2017/18 crop, which is increased 2 million tons to 119 million.With higher production, soybean exports for Brazil are revised up for both the 2017/18 and 2018/19 marketing years." The buyers driving these price fluctuations obviously follow these data closely. The USDA projections: http://www.usda.gov/oce/commodity/wasde/latest.pdf
It is indeed true that USDA releases do have an impact on commodity prices. Lehecka (2014) notes that weekly USDA Crop Progress reports do have an impact, even after accounting for once-a-quarter
[now once a month – MDC 6/18] World Agriculture Supply and Demand Estimates (WASDE) reports (the most recent is here; Crop Progress reports).
Lehecka (2014) also observes:
…days. Additionally, market prices tend to react rapidly and rationally to new crop-condition information. Strongest reactions are found for July and August, when weather conditions are most critical for the crop, and reactions have increased over time. Overall, these results suggest that reports have substantial informational value.
These points help one interpret the following graph: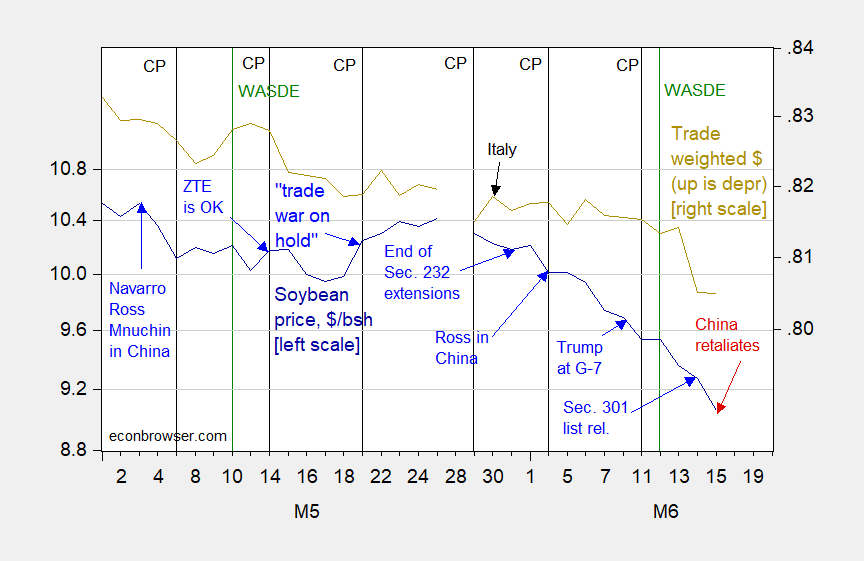 Figure 2: Soybean prices, $/bushel (blue, left log scale), and trade weighted dollar (brown, right scale), Federal Reserve Board broad index to 6/8, dxy thereafter; up is a depreciation. Black vertical lines at release of USDA Crop Progress reports; green vertical line as WASDE report release. Source: MacroTrends, Federal Reserve Board via FRED, TradingEconomics. [updated 6/18 to include May 10 WASDE]
Two observations:



The dollar appreciation in the last few weeks could be tagged as the culprit for the soybean price decline. But is it quantitatively sufficient? From 6/7 through 6/15, the soybean prices fell 7.3% (log terms), while the dollar gained 1.4%. Using historical correlations on changes of soybean prices and the dollar (from 1/1/2017 onward), soybean prices should've vallen 0.7%. Hence, the drop was about ten times larger than expected from dollar appreciation.

Lohecke (2014) notes the very rapid assimilation of information from the Crop Progress reports. Soybean prices, however, continue their drop on 6/13, 6/14, and 6/15, after the information from the most recent Crop Progress and WASDE reports should've been impounded into soybean prices.

This suggests to me that the drop in soybean futures prices discussed in this post, as well as this post, as largely due to the revelation of new information regarding the likelihood of Chinese trade sanction on US exports to China, as retaliation for Mr. Trump's actions, and not new information regarding world and domestic agricultural conditions. Journalistic accounts of traders' views also place primacy on trade sanction fears.
Hence, why N.D. soybean farmers say 'We feel like we're a bargaining chip'.
Update, 6/18: Interesting article on relative importance of tariff vs. ag conditions, here.