First, it was the mineshaft gap. Now, it's the Cheese Gap. And a dairy trade war is the perfect way to approach the impending threat.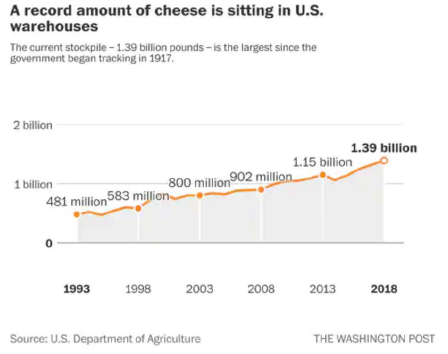 Source: WaPo.
Per capita cheese stockpiled was 1.85 pounds in 1993. By 2018, it had only risen to 4.24 pounds per person. Now, the European Union has about 1.38 pounds of skim milk product (not cheese) per capita stockpiled as of May 2018 (350,523 tonnes, population at 508 million). That means we do not have overwhelming dominance in milk product. And who knows what the Chinese have stockpiled. Fortunately, so far, the Trump Administration has done a "really special" job reducing the price at which the government could augment its cheese stockpile, should it choose to do so.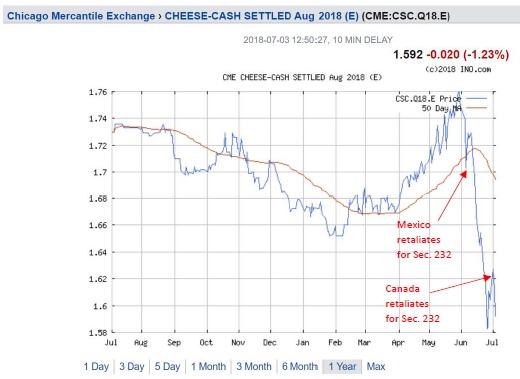 Source: ino.com, accessed 7/3.
In addition, these low prices should serve to effectively cull the excess number of milk producing farms, as noted in this article. Speaking of the Mexican tariffs:
Hardin, who has been in the industry for decades, says the price that farmers receive for their milk could sink even lower than it is now — putting many farms already in trouble out of business.

"We are looking at a short-term washout of 20 percent of Wisconsin dairy farm milk income on a monthly basis. That's how dangerous this mess is," Hardin said.
So, thank you Trump!