The announcement of proposed items is here. From the announcement:
USTR and the interagency Section 301 Committee carefully reviewed the public comments and the testimony from the public hearing. USTR and the Section 301 Committee also carefully reviewed the extent to which the tariff subheadings in the April 6, 2018 notice include products containing industrially significant technology, including technologies and products related to China's "Made in China 2025" industrial policy program.
The Administration might think they have the upper hand because the US imports more than it exports to China of final goods and services.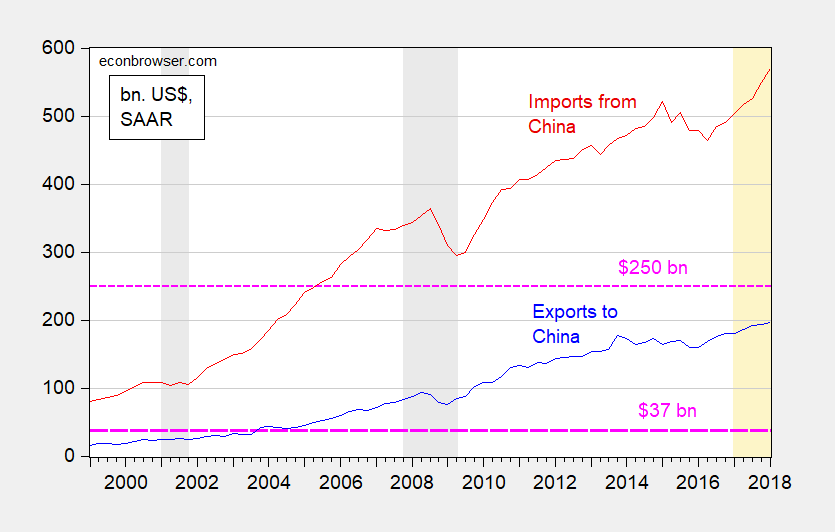 Figure 1: US exports of goods and services to China (blue), and imports of goods and services from China (red), in billions $, SAAR. NBER defined recession dates shaded gray; orange denotes Trump administration. Dashed pink line at $37 bn denotes value of imports already subject to imposed Sec. 232 and Sec. 301 tariffs. Dashed pink line $250 bn denotes value of imports potentially covered. Source: BEA/BuCensus.
The point is that China can retaliate along other dimensions, including making the operations of US multinationals operating in China very complicated, or letting their currency depreciate. Or should US interest rates pop up more than is comfortable for American policymakers, they can reduce holdings of Treasurys. Just failing to increase Treasury holdings when US debt issuance increases due to the TCJA could be painful.
I think the administration could have better pursued its (purported) aim to hinder the Made in China 2025 program by implementing to the full extent of the original recommendation the banning of purchases by ZTE. The imposition of another $200 billion worth of taxes impose pain, but will not necessarily induce China to forego its Made in China 2025 program. At the same time, it will likely raise costs for US firms that use Chinese intermediate inputs. Consider "HTSUS subheading 8414.59.15: Fans used for cooling microprocessors, telecommunications equipment, or computers". Great, laptops, PCs, servers will all now cost more.
And some things are just plain bizarre: "HTSUS subheading 9706.00.00: Antiques of an age exceeding one hundred years" That's just a handout to the current American holders of Chinese antiques (and to forgers of such items). Betcha one or two administration officials have some of those items.
I might also note that not counted in the tabulation is the set of antidumping and countervailing duties already imposed on Chinese goods.
I want to know who is on the interagency Section 301 committee…