An interesting symposium in the 2nd Quarter 2018 issue of Choices, published by the Agricultural and Applied Economics Association, deals with the impact of Chinese trade retaliation aimed against US agricultural exports.
Some reading to contemplate this graph by: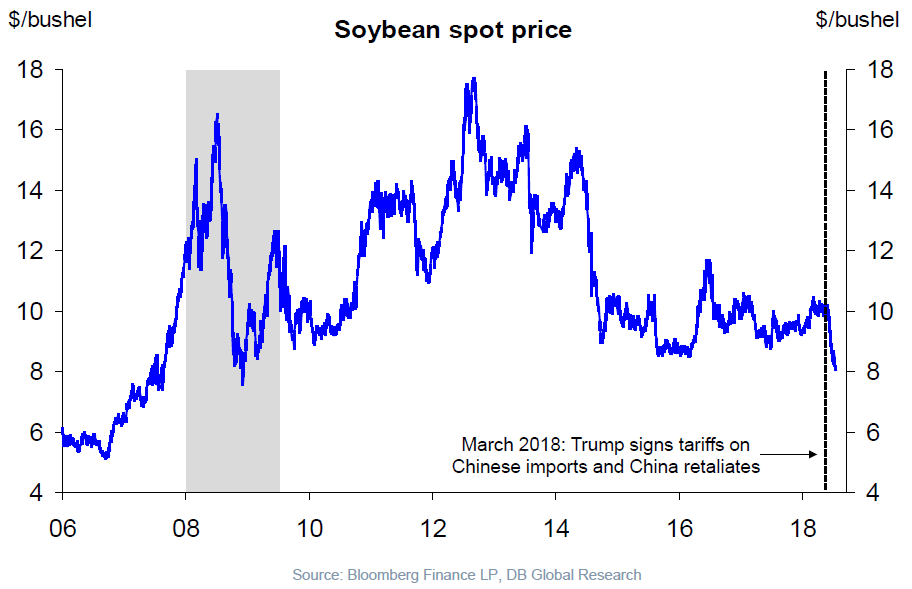 Source: Slok, "Global markets: US overheating and Treasury supply pushing US rates up. Trade wars and Turkey pulling US rates down," Deutsche Bank, September, 2018.
What Have We Learned from China's Past Trade Retaliation Strategies? (pp. 1-8)
Minghao Li, Wendong Zhang and Chad Hart

Theme Overview: U.S.–China Trade Dispute and Potential

Impacts on Agriculture (pp. 1-3)
Mary A. Marchant and H. Holly Wang

Predicting Potential Impacts of China's Retaliatory Tariffs on the U.S. Farm Sector (pp. 1-6)
Yuqing Zheng, Dallas Wood, H. Holly Wang and Jason P. H. Jones

Impacts of Possible Chinese 25% Tariff on U.S. Soybeans and Other Agricultural Commodities (pp. 1-7)
Farzad Taheripour and Wallace E. Tyner

Upheaval in China's Imports of U.S. Sorghum (pp. 1-8)
James Hansen, Mary A. Marchant, Wei Zhang and Jason Grant

Chinese Trade Retaliation May Diminish U.S. Wine Export Potential (pp. 1-7)
Amanda M. Countryman and Andrew Muhammad

China's Potential Cotton Tariffs and U.S. Cotton Exports: Lessons from History (pp. 1-6)
Yangxuan Liu, John R. C. Robinson and W. Donald Shurley
Some interesting tidbits:


The estimated impact on US soybean prices by Zheng et al. (2018) is about 4%, using a conventional partial equilibrium model called GSIM (Francois and Hall, 2003), as does Taheripour and Tyner (2018), using the very well-known GTAP model. Assuming elevated elasticities only increases the price drop for US domestic prices by 5%.
Given US soybean prices have dropped by about 20% since the imposition of Chinese tariffs, one might conclude that the remaining 15% of price drop is due to weather and other factors (which include the dollar exchange rate). However, the durability of the 25% spread between US and Brazilian soybean prices suggests that tariffs are the primary driver.

Taheripour and Tyner (2018) include this caveat in their conclusion:

However, other factors may attenuate or strengthen our predictions. For example, the Chinese government has implemented policies to increase soybean planting acreage at the cost of corn acreage, a commodity for which China has accumulated a high inventory. Such policy changes may result in exports of this commodity to fall even further, which would make our predictions a conservative estimate.

And from previous accounts, we know the Chinese have been aggressive in reducing import dependence.

Where will we go from here?

From "What Have We Learned from China's Past Trade Retaliation Strategies?" by Minghao Li, Wendong Zhang, and Chad Hart:

This article sheds light on some of China's agricultural trade retaliation principles by analyzing previous cases. China's responses follow three principles: (1) responding proportionally with restraint, (2) targeting substitutable products when possible, and (3) inflicting economic and political costs. With a more concrete understanding of China's motives and potential actions, U.S. policy makers and stakeholders can better evaluate the potential consequences of applying trade measures on China. Furthermore, as the trade dispute continues, any deviation
from these principles on China's part may serve as a signal of the Chinese government's intention to escalate or deescalate the situation.
So, as Mr. Trump escalates the
rhetorical war against China
(e.g., blaming China for meddling in US elections(!)), watch to see China deviate from those principles to infer the trajectory of the Chinese retaliation. From my reading, the Chinese have not backed down in the past. Perhaps they will this time. If they don't, where does Mr. Trump's plan to beat the Chinese into submission lead to?