The gap between US and Brazil soybean prices is (finally) shrinking: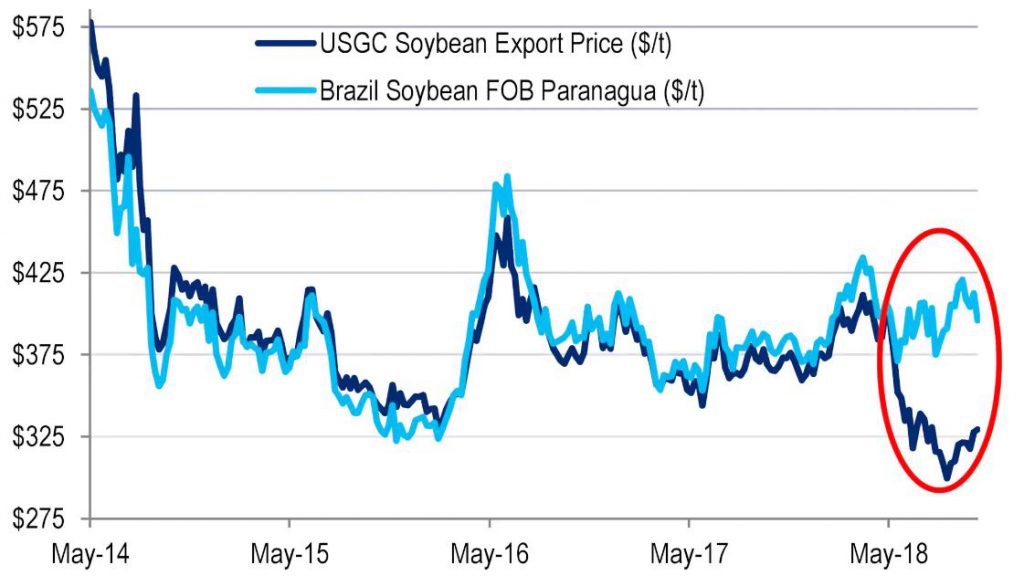 Source: CNBC.
CNBC notes:
"Narrowing US-Brazil soybean price differentials imply greater market optimism on the potential for a Trump-Xi trade deal or at least a de-escalation of US-Sino trade tensions in advance of the G20. This positive sentiment stands somewhat in contrast to other asset markets, including equities," the Citi strategists wrote.
The gap last week was 13-15% while the tariff implies a wedge of 25%, given durable tariffs and no tariff evasion.
Is the market justified in its optimism? This account from BI made me wonder.
[A]s soybean prices plummeted in August, and Trump threatened to hit China with more tariffs, Aistrope dropped his chores and jumped on a plane to China for a trade mission arranged by the US Grains Council, a industry group financed in part with taxpayer money.
He spent 10 days traveling with other farmers, visiting two dairy farms and meeting importers at a large feed maker.

They struck no deals; Chinese importers said they saw buying US soybeans as politically untenable even if their prices continue to fall. Aistrope was left to hope his visit might make a difference in winning buyers back if the trade war ends.
That indicates to me that despite price discounts that have been and might be offered in the future, the Chinese government would exert tremendous "moral suasion" to dissuade importers from buying US soybeans. Further, the Chinese government is unlikely in my view (based on my untutored view of what "losing face" means) to capitulate in the absence of substantial concessions, concessions I do not see Mr. Trump offering.
In any case, we will see. It is an interesting experiment. Too bad some people have to suffer.