The University of Wisconsin's Department of Economics was represented at the Federal Reserve System's national Fed Challenge competition, this last Thursday. Wisconsin participated, after prevailing in the Chicago region's competition.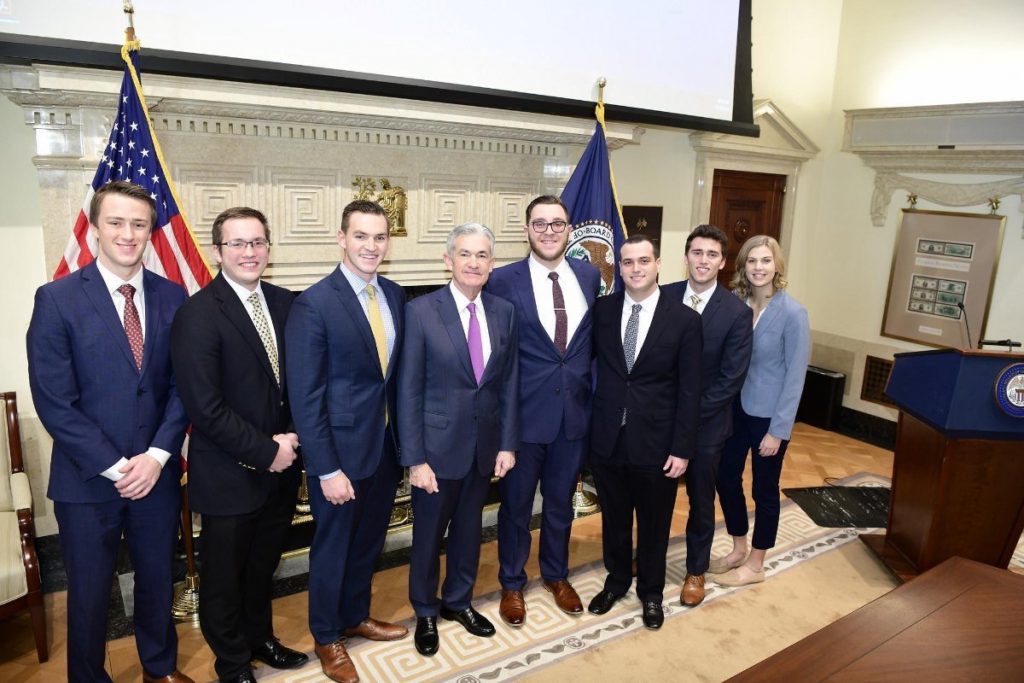 The team with Fed Chair Jerome Powell
From the release.
Yale University won the 15th annual national College Fed Challenge on Thursday, a competition that encourages students to learn about the U.S. economy, monetary policymaking, and the role of the Federal Reserve System. …

The finals were held in the Board Room at the Board of Governors as the capstone to five district competitions held around the country. The other national finalists were second place: Rutgers University, with honorable mentions for Princeton University, University of Wisconsin-Madison, and Virginia Commonwealth University. College Fed Challenge is a team competition for undergraduate students. Teams analyze economic and financial conditions and formulate a monetary policy recommendation, modeling the Federal Open Market Committee.

"The College Fed Challenge, now in its 15th year, provides a forum for students to take their studies from the theoretical to the practical as they weigh a real-life set of facts and circumstances and make a judgment about the optimal path for monetary policy," said Federal Reserve Board Chairman Jerome H. Powell. "It is my hope that the experience of preparing for the competition might inspire these young adults to explore careers in economics or finance."

Teams competing in the College Fed Challenge finals gave 15-minute presentations and answered questions for a panel of judges. Teams were evaluated on economic analysis, responses to judges' questions, teamwork, and presentation. The judges were Ellen Meade, Special Adviser to the Board and Division of Monetary Affairs; Anna Paulson, Senior Vice President, Financial Markets Finance at the Federal Reserve Bank of Chicago; and Giorgio Topa, Vice President, Research Economist at the Federal Reserve Bank of New York. The teams competed in their local Reserve Bank Districts, and the top teams moved on to the finals in Washington, D.C.
More on UW at the Fed, here and here.
The team's presentation is here. (The team: Thomas Costello, Zach Swaziek, Patrick Sweeney, Tony Mattioli, Alex Orlov, Kara James, Jake Steinberger).