In the likely event that Mexico does not provide the funds to build "a beautiful big wall" on our southern border, will Mr. Trump declare a national emergency and redirect funds? Mr. Trump has mentioned diverting monies from Puerto Rico recovery.
Numbers, from CNN:

There is more than $13 billion not yet physically spent on the infrastructure repair projects, but that have been promised to these communities.
For instance, more than $2 billion planned for projects in Puerto Rico has not yet been spent. More than $4.5 billion for projects in Texas, including those related to 2017's Hurricane Harvey, has also not been spent.

Note that estimates for the total cost of building the wall range from $12-$40 billion. Hence, it is unlikely that redirecting these funds would be sufficient to complete the wall.
This then seems an opportune time to re-examine how well Puerto Rico has done in the wake of Trump's "10 out of 10" self-assigned grade for hurricane disaster recovery, and hence able to do without recovery funds. This article provides some information.
Additional food aid for the island's poor will soon be exhausted without supplemental funds opposed by the White House. At the same time, billions in community development appropriations have yet to leave Washington — a year after being approved by Congress to assist in the recovery from Hurricanes Maria and Irma.
Below I display two relevant series: overall establishment employment and construction employment.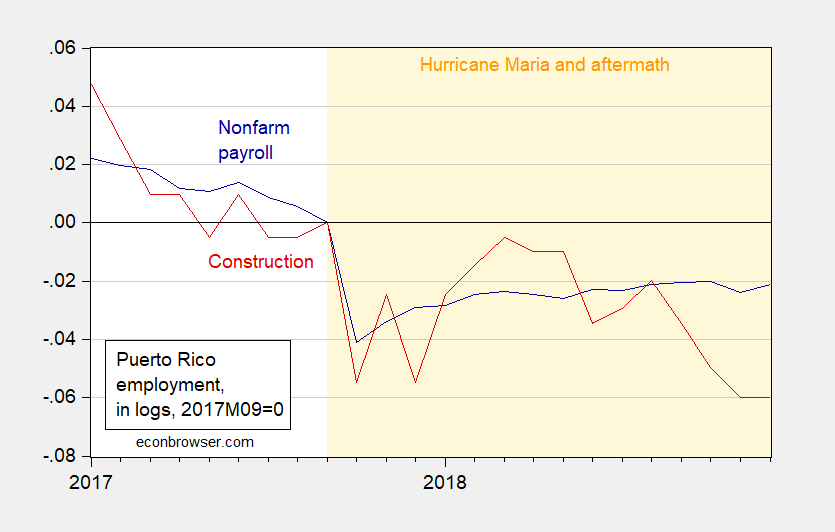 Nonfarm payroll employment is 3% below August 2017 levels (in log terms) suggesting the recovery is incomplete. Construction employment is 6% lower than when Hurricane Maria struck.
What about overall economic activity? The November level was 1.5% below August 2017 levels.
The slow comeback in the Economic Activity Index is remarkable given the burst of cement production, which is one component of the economic activity index. This means employment and gasoline sales and electricity generation recovered even less.
Studies of the impact of Hurricane Maria on Puerto Rico can be found here.
As an aside, taking monies from suffering (American) minorities to keep out (however ineffectually) other minorities (including those who have a legal right under international law to seek asylum) would no doubt give Mr. Trump infinite satisfaction.