In New York City. Inveterate commenter Steven Kopits cites an article from some publication called "Liberty Nation":
76.50% of full service restaurant respondents reduced employee hours, and 36.30% eliminated jobs in 2018, in response to mandated wage increases. 75% of limited service restaurant respondents report that they will reduce employee hours, and 53.10% will eliminate jobs in 2019 as a result of mandated wage increases that took effect on December 31, 2018.
This is a pretty faithful summary of the report by the NYC Hospitality Alliance. I thought that instead of citing (unweighted) statistics, it might be useful to look at data, to see what actually happened (as opposed to what restaurateurs thought would happen, at the end of December). So, below, are outcomes: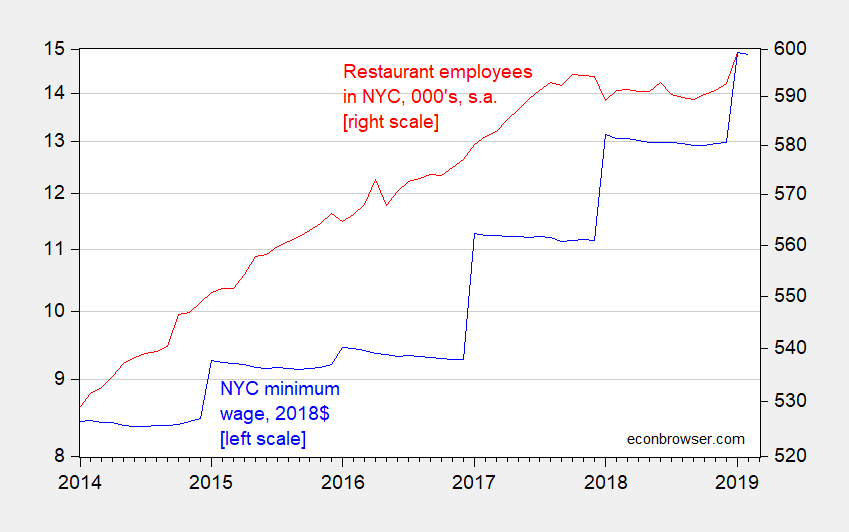 Figure 1: New York City minimum wage, in 2018$ (left log scale, blue), restaurant employees (full service, limited service), in 000's, s.a. (right log scale, red). Deflation using CPI for NYC-Newark-Jersey City, n.s.a. Source: BLS, and author's calculations.
If we focus on the 2019 increase — the topic of the Liberty Nation article — the prophesied calamitous drop in employment didn't occur. In fact, employment jumped. Of course, the data will be revised, and the collapse could occur in the coming months. But, for now, no cataclysm (much like none in San Francisco, nor in Seattle, …
More broadly, the (log) level of restaurant employment rises with the (log) real level of the minimum wage. The first difference shows absolutely no significant association.
Bottom Line: Quote survey results from industry associations at your own risk.
Addendum 3/18: Corrected version 3/15 here.