It's easy to forget that thousands of American died in the wake of Hurricane Maria, and more are set to die as the administration opposes further assistance to the Commonwealth. Yet, new estimates confirm earlier estimates, and give detail on the causes.
Figure 1 summarizes some key estimates, including that from a recent study by Cruz-Cano and Mead.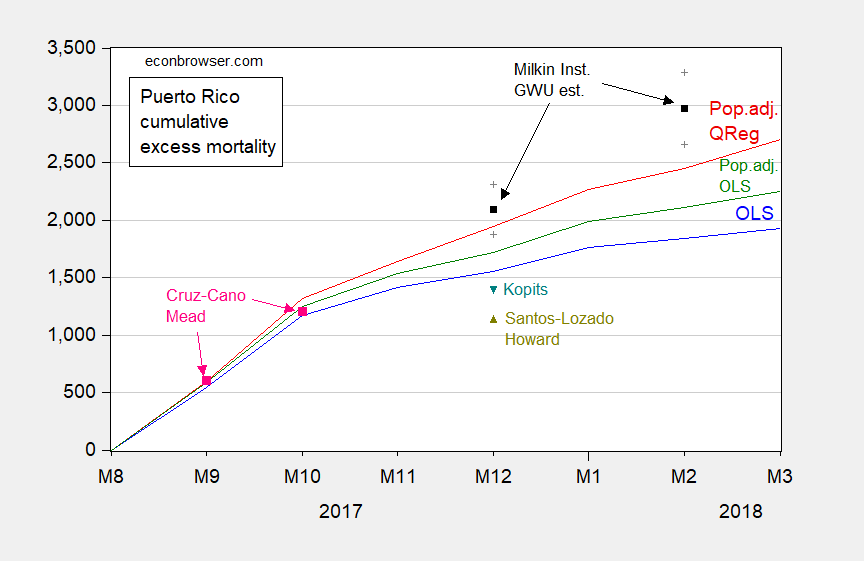 Figure 1: Cumulative excess deaths from September 2017, for simple time dummies OLS model (blue), OLS model adjusting for population (green), and Quantile Regression model adjusting for population (red), Milken Institute point estimate (black square) and 95% confidence interval (gray +), Santos-Lozada, Howard letter (chartreuse triangle), Cruz-Cano and Mead (pink squares), Kopits (teal triangle). Not pictured: Kopits estimate of 300-400 for October 2018. Source: author's calculations, Milken Institute (2018), Santos-Lozada and Howard (2018), Cruz-Cano and Mead (2019), and Kopits (2018).
The Cruz-Cano and Mead study breaks down excess fatalities.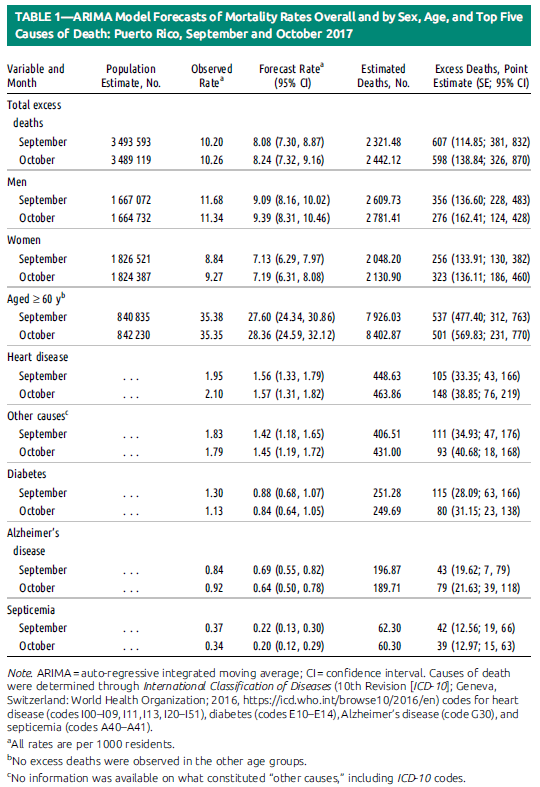 Source: Cruz-Cano and Mead (2019)
I find it striking how many excess fatalities are attributable to diabetes — presumably some nonsignificant share is due to the lack of power for refrigeration and access to dialysis treatment. Heart disease is the single largest category. Lack of treatment was likely the cause, according to the article.
And yet, I suspect Mr. Trump would assert his administration deserves an A+ for disaster response. As for the current situation, from AJMC:
Meanwhile, recovery efforts to repair the $90 billion worth of damage are lagging; most recently, Congress and President Donald Trump failed to resolve an impasse over disaster aid. Rep. Nita Lowey, D-New York, has introduced a bill for $17.2 billion in emergency supplemental appropriations, as well as $3 billion for the Midwest, which recently flooded.
The administration has dismissed additional funding for food assistance as "excessive and unnecessary". So expect excess mortality levels to remain elevated.