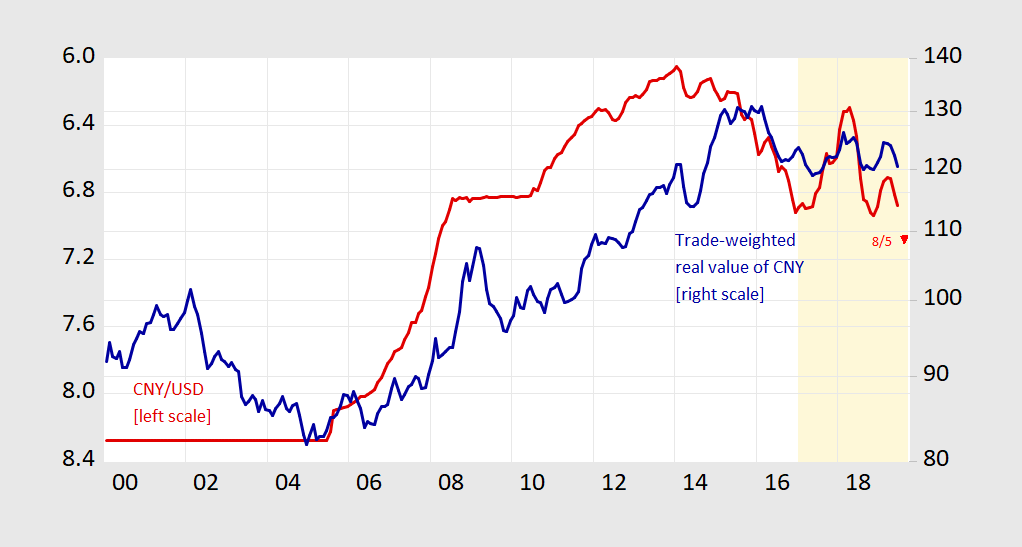 Figure 1: CNY/USD nominal exchange rate (red, left inverted scale), 8/5 value (red triangle, left inverted scale), trade weighted real value of CNY against broad basket of currencies (blue, right log scale). Up denotes appreciation. Light orange shading denotes Trump administration. Source: FRED, and BIS.
In a new (and extremely timely) EconoFact memo on Should the United States Try to Weaken the Dollar?, Michael Klein and Maury Obstfeld ask:
Direct intervention by the U.S. Treasury in the foreign exchange market offers one possibility, and several economists have advocated just such a move to counteract potential currency manipulation by foreign countries. In such operations, the Treasury would use dollars to buy foreign currency bonds, bidding up the relative prices of foreign currencies and weakening the dollar. The Treasury can intervene through its Exchange Stabilization Fund (which would give it just under $23 billion to sell, although the Fed could join the Treasury, as it has in the past, to sell U.S. bonds on its balance sheet for foreign bonds, without altering its interest-rate policy). Foreign exchange interventions might have to be big to move markets in a sustained way. For example, in the fiscal year 2019 through June, the Federal government issued $747 billion in dollar bonds to finance its deficit, or about $83 billion per month (and 23 percent higher than the same period a year earlier). All else being equal, these big increases in the supply of dollar-denominated bonds should weaken the dollar as investors diversify their increased U.S. bond holdings into foreign currencies, but although that was not the reason these bonds were issued, the dollar has not fallen. Given the size of international bond markets, would another few billions (the maximum size of past interventions) make a difference?
The answer is, I think, is no. Rather, the phrase "You're gonna need a bigger boat" comes to mind, if we indeed want to engage in a currency war with China. The "if" condition is critical. A truce, and stand-down in the campaign as currently conducted is in order. Perhaps, trying to pressure China via multilateral pressure and activation of plurilateral trade organizations (e.g., TPP) on intellectual property and market access issues would be more productive.
This is so, despite today's bombshell declaration by Secretary Mnuchin that China is a currency manipulator. As recently as May, the Treasury Department declined to designate China:
Based on the analysis in this Report, Treasury determines, pursuant to the 2015 Act, that China continues to warrant placement on the Monitoring List of economies that merit close attention to their currency practices. Treasury determines that while China does not meet the standards identified in Section 3004 of the 1988 Act at this time, Treasury will carefully monitor and review this determination over the following 6-month period in light of the exceptionally large and growing bilateral trade imbalance between China and the United States and China's history of facilitating an undervalued currency. Treasury continues to have significant concerns about China's currency practices, particularly in light of the misalignment and undervaluation of the RMB relative to the dollar.
The quick turnabout exposes the political expediency of this move — after all, none of the indicators highlighted in the Report have changed substantively since May.
(One operational question that comes to mind: if the US wants to counter Chinese currency "manipulation", what are we gonna buy? Chinese government bonds? Can we?)
Read the EconoFact piece. A primer on misalignment. The implications of the June 2019 Big MacParity data.