From the Washington Examiner, and op-ed, via AEI:
Although lockdowns are preventing some deaths, they are undoubtedly increasing deaths by other causes. This virus is killing people not only by infecting millions but also by inducing a policy response that kills people.

First, …Isolation kills in many ways. We don't have data that the lockdowns are causing more suicides, but plenty of health experts believe they will. People struggling with drug addiction are finding it harder to get the treatment they need. This could cause relapses and eventually, death.

It's reasonable to worry about increases in drinking, and thus alcoholism and alcohol-related deaths. (Though, with less driving, we'll have fewer DWIs.) …

People are also missing out on crucial medical care because of the coronavirus. … Many treatments are simply not happening. The result is that ill people don't get the healthcare they would be getting.
All these points make sense, although the relevant question is whether the quantitative magnitude is significant. One way to get at this question is to look at excess mortality (which is an estimated figure) and compare against reported covid-19 fatalities. (a statistically reported figure, which is likely subject to undercounting).
Using CDC data accessed a couple days ago, I find that most of the excess mortality is accounted for (in an accounting sense) by covid-19 fatalities.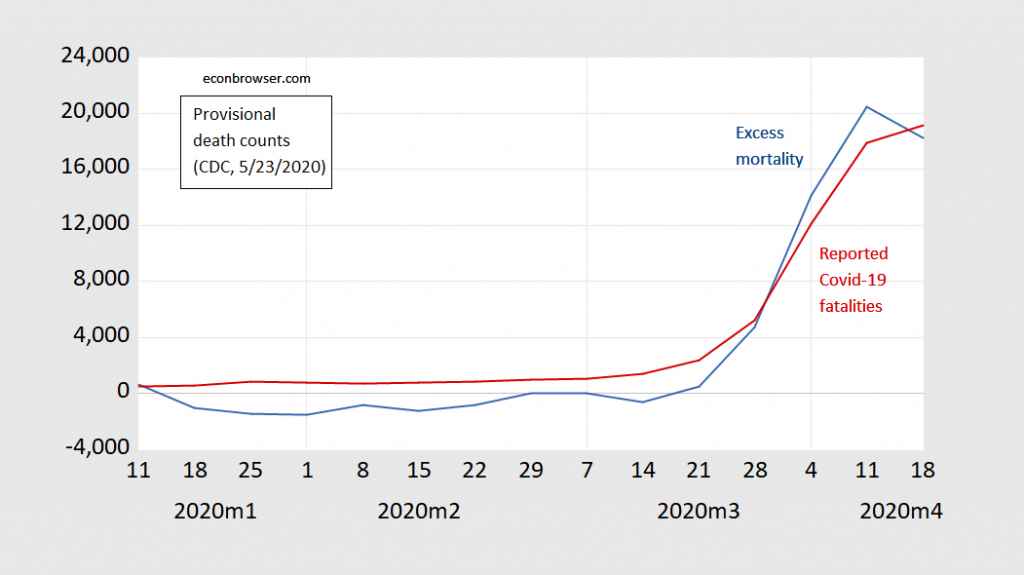 Figure 1: Excess mortality (blue), and reported covid-19 related fatalities (red), by week. Source: CDC, accessed 5/23/2020, and author's calculations.
I end the sample at 4/18 because the more recent data are subject to very large revisions (according to a comparison of data ending 5/9 vs. data ending 5/2).
From 3/28 through 4/18, reported covid-19 fatalities accounts for 94.3% of excess fatalities (point estimate).