today, as I was writing a short comment on the dollar's prospects, I realized how much my views were informed by who was likely to be managing the macroeconomy. Just to make this point concrete, consider the economic team under Trump, as compared to under Obama as the latter confronted the Great Recession: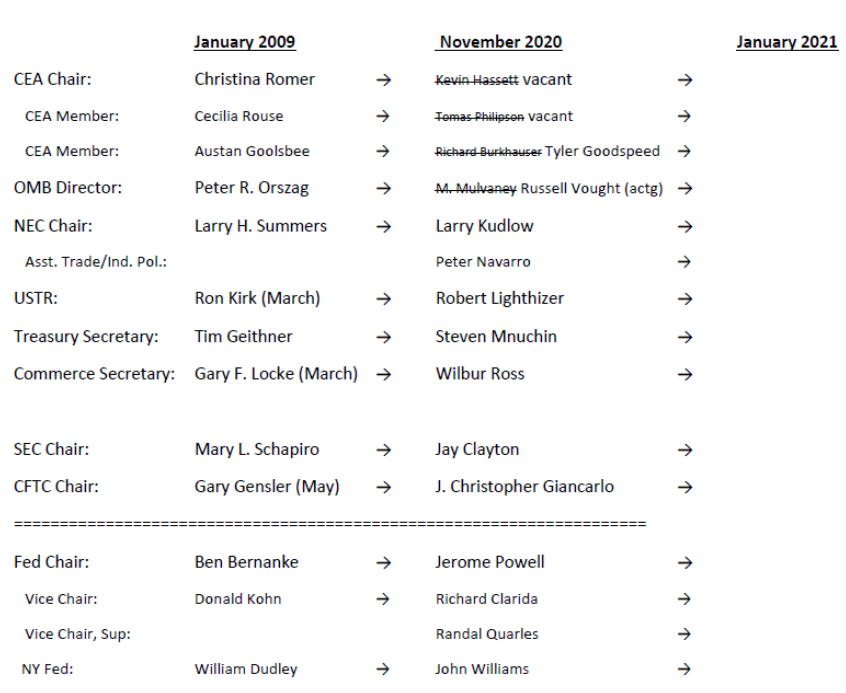 The Fed's leadership won't change immediately, but — importantly if you were wondering if there'd by dollar gyrations — there's likely to be no Judy Shelton on the Board. Nor are nominations of the likes of Stephen Moore and (rest his soul) Herman Cain coming.
I have no inside information on who's who on the incoming list. This NY Times article has some speculation. A bulletpoint list, from Marketwatch.
Some reasonable views on policy are represented here at the Peterson Institute for International Economics's session on rebuilding the global economy, and I hope that the new team represents those views. Interestingly, some offices disappear (the Office of the Assistant for Trade and Manufacturing Policy is abolished if Doug Irwin has any say).