Weekly Covid-19 fatalities are falling according to CDC estimates, but those numbers are likely to be revised upward; going from last week's release to this week's, excess fatalities have been revised upward drastically. Unofficial estimates indicate a resumption of the upward movement in fatalities to a new peak (18690/week for week ending 1/2/2021, averaging 2670 deaths/day).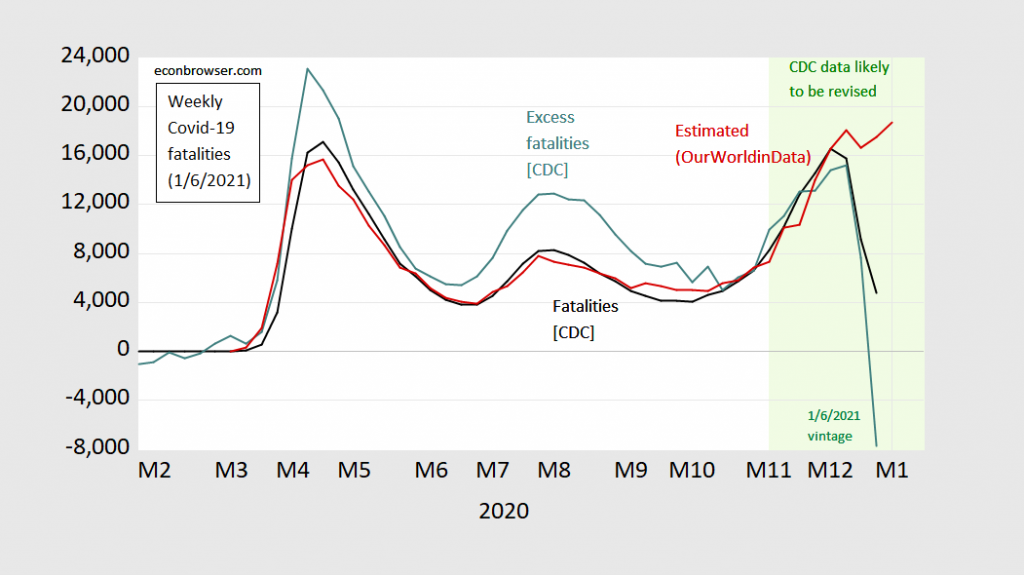 Figure 1:  Weekly fatalities due to Covid-19 as reported to CDC for weeks ending on indicated dates (black), excess fatalities calculated as actual minus expected (teal), fatalities as tabulated by Our World in Data (dark red). Note excess fatalities differ from CDC series which are bounded below at zero. Light green shading denotes CDC data that are likely to be revised. Source: CDC  1/6/2021 vintage, OurWorldinData version of 1/5 accessed 1/6/2021 and author's calculations.
My experience with these series is that the CDC excess count series moves upward toward a line parallel to, and shifted upward from, the Our World in Data series (see this post). In other words, excess fatalities could be rising. Upward revision of excess deaths (calculated as actual minus expected) going from 12/30 vintage to 1/6 vintage for the week ending 12/19 is about 9500 (that's a 7 day total).
As hospitalization rates continue to climb, and in the wake of the massive travel surrounding Christmas holidays, I expect another surge in deaths – although the latest CDC ensemble model projects constant level of fatalities (albeit at a high level).