Today, we are pleased to present a guest contribution by Christopher Otrok, Sam B. Cook Professor of Economics, University of Missouri, and Research Fellow, Federal Reserve Bank of St Louis. The views expressed here are our own and do not reflect the official opinions of the Federal Reserve Bank of St. Louis or the Federal Reserve System.

---
Conventional wisdom in some circles is that lowering tax rates on high-income people will result in economic booms that benefit those less well off—trickle-down economics. A half century of tax cuts for those with high incomes accompanied by increasing income and wealth inequality are suggestive that this conventional wisdom is not likely to be true. In recent work my coauthors and I develop a new measure of income tax progressivity. A key feature of our measure is that it conditions on changes in the level of taxes. That is, we view our measure as a pure twist in progressivity that abstracts from changes in the level of taxes. Extant empirical evidence and economic theory generally agree that an increase in the level of taxes (i.e. an income tax increase on everyone) will lead to an economic contraction. Economic theory is less clear on what happens after a change in progressivity. With our new measure, we are able to show that a pure change in income tax progressivity, which is an increase in income tax rates on the highest incomes and a corresponding decrease at the low end such that the changes are revenue neutral, yields an economic boom.
Why would such a change be expansionary? The underlying economic story is that those at the low end of the income distribution are credit-constrained and spend virtually the entire tax cut, leading to a consumption boom. In the language of Keynesians, their marginal propensity to consume out of income (MPC) is close to one. Those with high incomes, who are often wealthy, have much lower MPCs and adjust their consumption spending very little after the tax changes, at least those that we have seen historically. Hence, a pure change in progressivity leads to an overall economic boom. The figure below depicts the response of output, consumption, and hours worked to a positive one-standard-deviation unexpected increase to income tax progressivity. As is clear, there is an economic boom.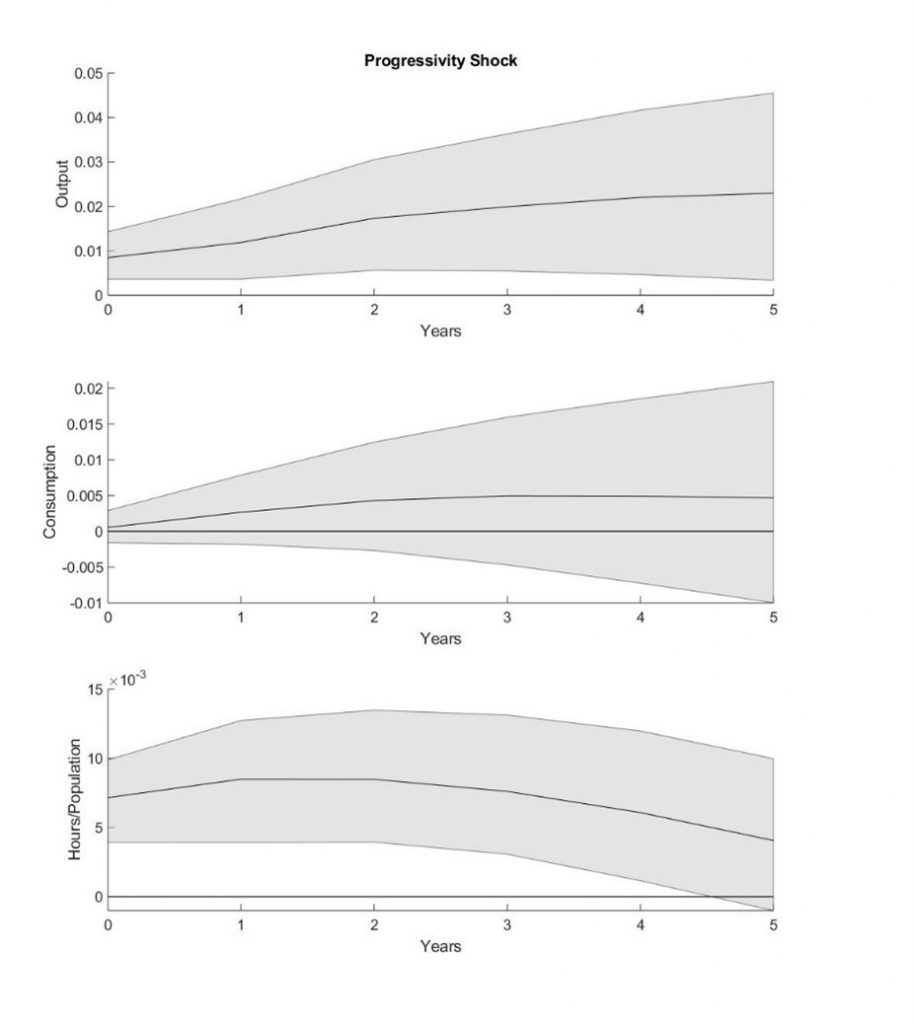 Figure 1: The response of output, consumption and hours worked to an increase in the progressivity of income tax rates.
But the story goes deeper than that. This economic boom, the result of an increase in income tax progressivity, results in an increase in income inequality. This is true if you look at the resulting change in the 99-50 or 95-50 percentiles of the income distribution. Interestingly, the change in the 90-10 is essentially zero. This is what we call trickle-up economics. Why would an increase in tax rates on high-income earners, accompanied by a decrease at the low end, result in an increase income inequality? The likely story is the increase in wealth inequality that has accompanied the increase in income inequality (Piketty, Saez, and Zucman, 2018). Raising income taxes of those at the high end of income has little impact on their labor effort because they gain even more as the owners of capital. Inequality increases because the economic booms we have seen in the last 50 years have disproportionately helped those who own the capital.
What then are the policy takeaways? First, we show that an increase in income taxes on those with incomes over $1,000,000 will be expansionary. That is, of course, a good outcome. Raising taxes on those with incomes above $400,000 and $1,000,000 yields a small contraction. The issue of course is that increases in income tax progressivity will not solve the income inequality issue facing society. It is an open question as to what policies will address this issue.
References
Laura E. Jackson, Christopher Otrok, and Michael T. Owyang, "Tax Progressivity, Economic Booms, and Trickle-Up Economics," St Louis Federal Reserve Bank Working Paper 2019-034A. https://doi.org/10.20955/wp.2019.034
Piketty, Thomas; Saez, Emmanuel; and Zucman, Gabriel. 2018. "Distributional National Accounts: Methods and Estimates for the United States. The Quarterly Journal of Economics, 133(2): 553-609. https://doi.org/10.1093/qje/qjx043.
---
This post written by Christopher Otrok.