There's a nifty website where you can trace out the intellectual lineage of your favorite academic (or not so favorite, as the case may be). Here's mine: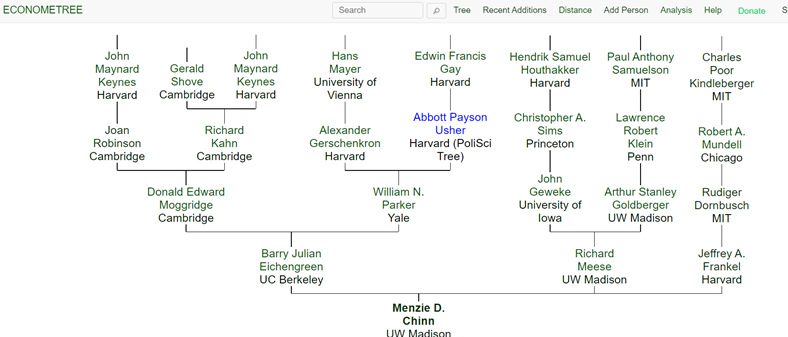 The institutions are those the individual is associated with (either as a graduate, or as a faculty member — it's not always clear from how things are listed, so  you have to click to see more).
This tree was a revelation to me, the British branch in particular. Nor was I aware of the economic history branch which included Alexander Gerschenkron (who was also an adviser for the first person I RA'd for at graduate school, Albert Fishlow).
If you're interested in only economics, then go to this link. Since the information is put in voluntarily, there's no guarantee of accuracy of completeness. Nonetheless, it's an interesting tabulation. If you don't find yourself there, you can add your information (but you'll have to register).
By the way, note that these lists show dissertation committee members or just dissertation advisers, but of course other people can be influential teachers even without serving on their committees.