With large shares of populations vaccinated, case counts are no longer a good predictor of fatalities arising from Covid-19. Hospitalization might prove better (and ICU hospitalizations even better). The statistics do not augur well, particularly for Florida.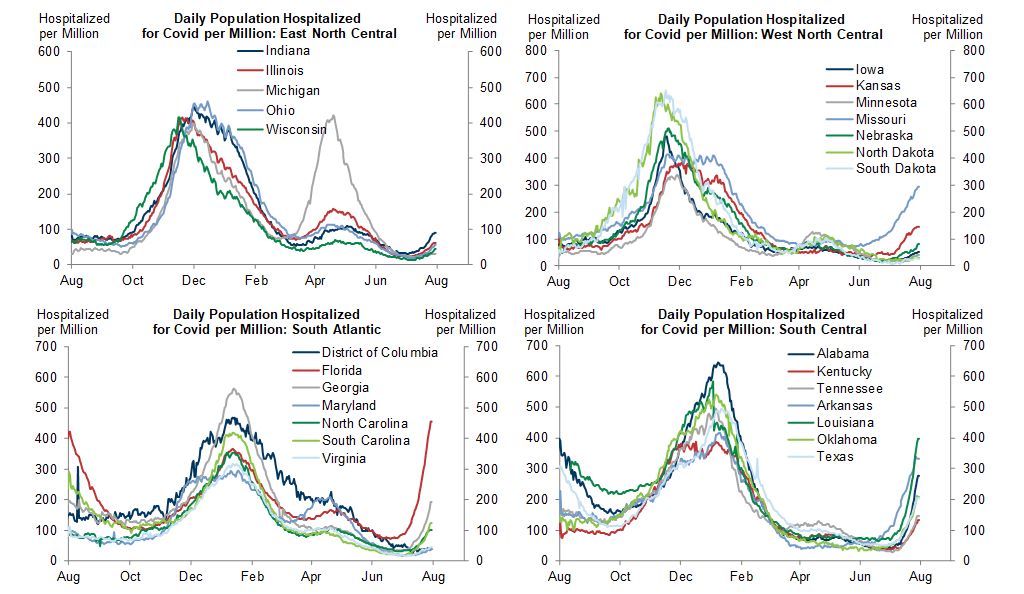 Source: GS CovidTracker, August 2, 2021.
Obviously, Florida remains a big problem when you consider its 21 million population, and that it accounts for 5.1% of US GDP (as of 2019Q4). For comparison, California, as the economically largest state, accounted 14.8%.
Here is IHME's latest fatalities forecasts, from July 30.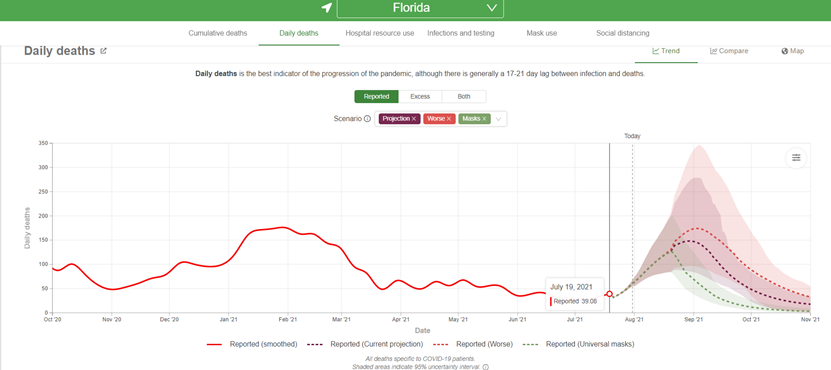 Source: IHME, July 30th forecast.
The IHME forecast presented above was not included in the July 26th CDC ensemble forecast. At the time of the CDC ensemble forecast compilation, IHME's forecast was above the ensemble forecast, but not at the very top.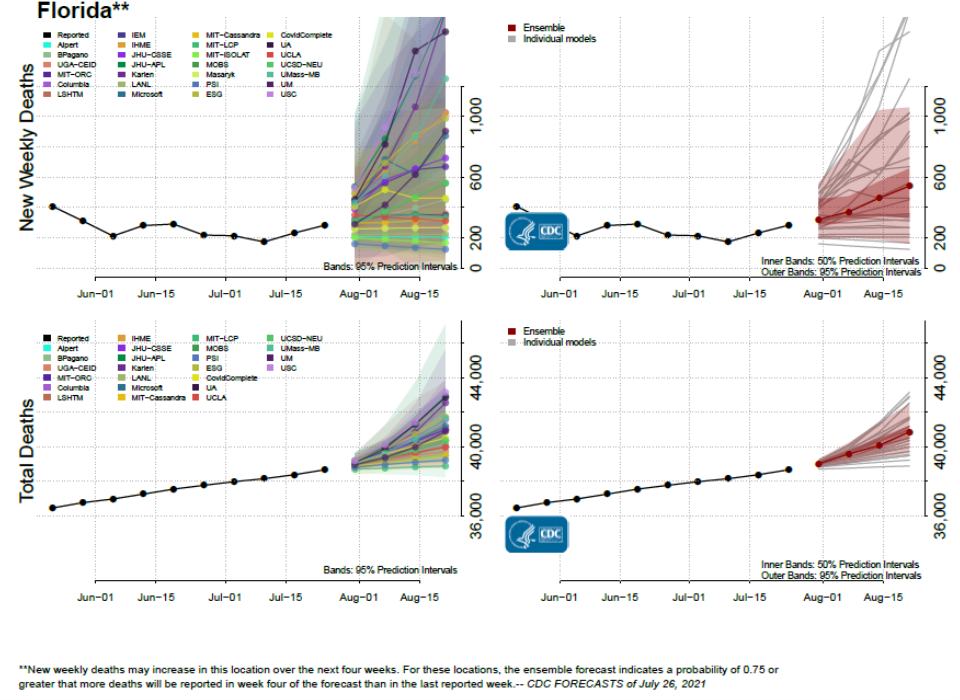 Source: CDC, July 26 ensemble forecast.
Since it's hard to see, here's a detail.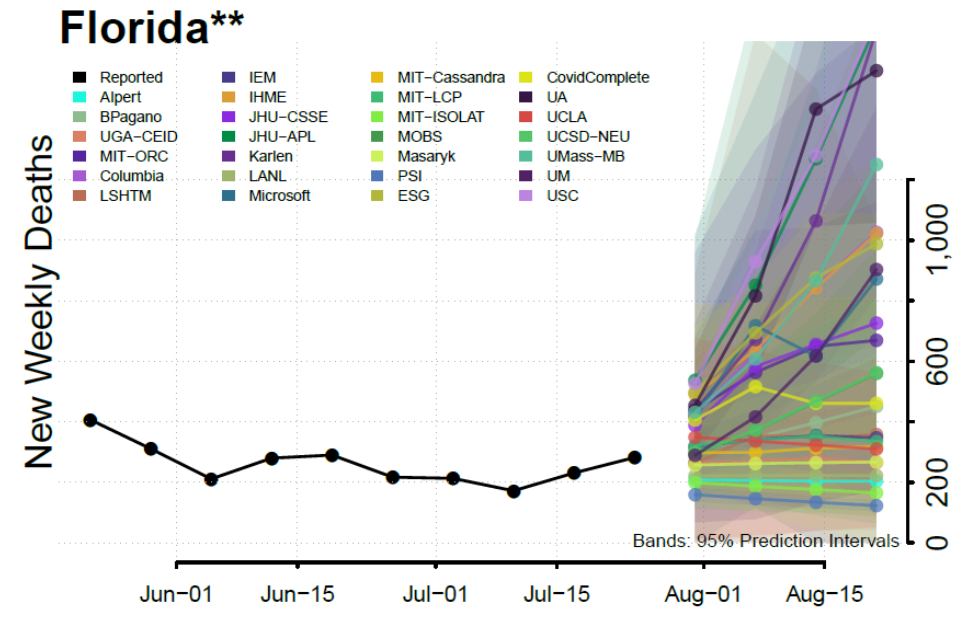 Source: CDC, July 26 ensemble forecast.
The IHME forecast available as of 7/26 was for about 1000 fatalities per week, compared to the ensemble forecast of a bit below 600. The IHME forecast was at the top of the 95% band. A new ensemble forecast should be released on 8/4.
It's clear why Mr. De Santis wants to avoid the specter of Covid-19. The late summer and winter waves clearly slowed Florida's recovery. Rising deaths might spur — if not additional public health measures such as mask mandates that the governor has banned — then increasing aversion by those who perceive risks associated with going about business as usual.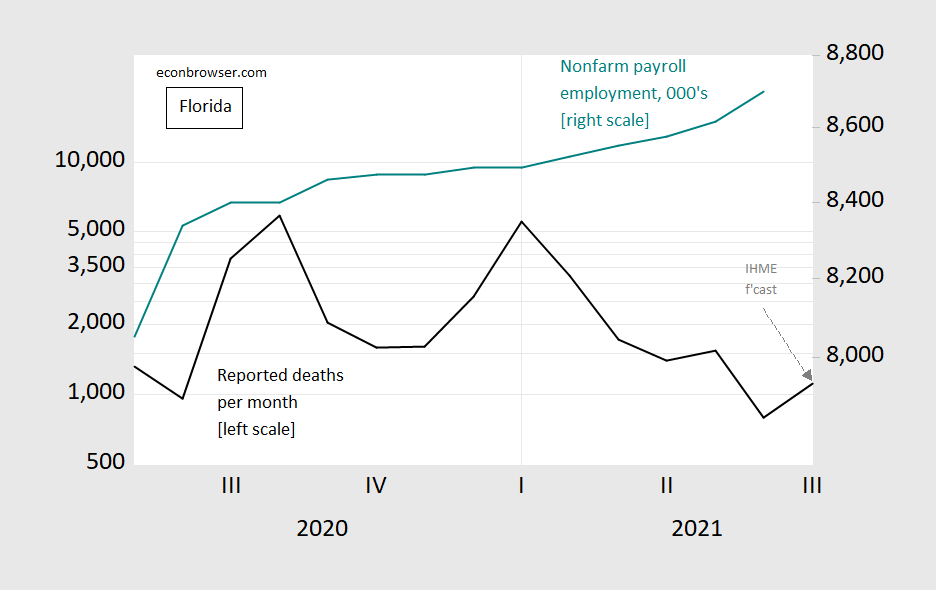 Figure 1: Florida Reported deaths due to Covid-19 (black, left log scale), nonfarm payroll employment, in 000's, s.a. (teal, right log scale).  NBER defined recession dates shaded gray. July observation for deaths is IHME forecast.  Source: CDC, IHME, BLS, NBER, and author's calculations.
I expect risk aversion to induce a reduction in consumption of high contact services. If mask mandates and other public health measures were imposed, that might lead to a greater short term reduction in economic output (although in the long run, total hours might be higher, as in the Eichenbaum pandemic/output model).
Any lessons to be gleaned from the past episodes? The employment losses thus far can be decomposed into two groups — the high contact services associated with leisure and hospitality services, and everything else covered in nonfarm payroll employment.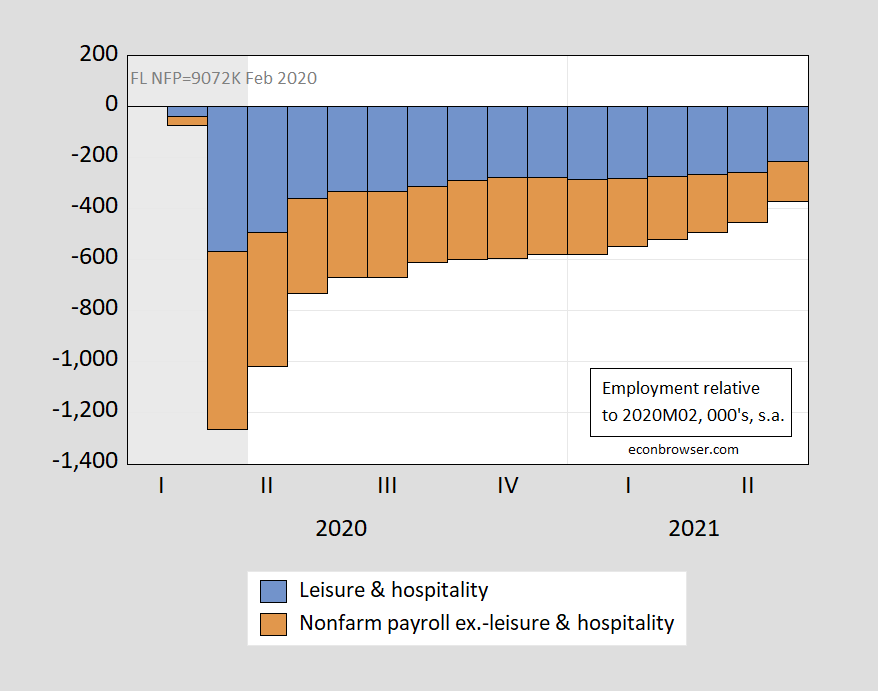 Figure 2: Florida employment relative to 2020M02 in leisure and hospitality services (blue bars), and in rest-of-nonfarm payroll employment (tan bars), in 000's, s.a.  Source: BLS, and author's calculations.
You can see that leisure and hospitality employment recovery stalls out in July-August 2020, and January 2021. If the rise in deaths occurs as forecasted in Figure 1, then
All this takes place in the context of already slowing growth, as far as we can tell (these indicators run only through June).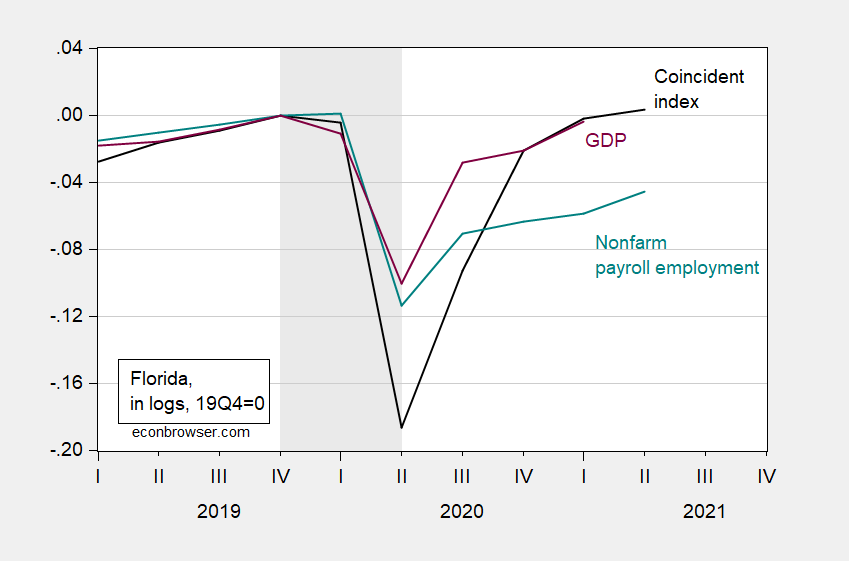 Figure 3: Florida Coincident index (black), real GDP (purple), and nonfarm payroll employment (teal), all in logs, 2019Q4=0. NBER defined recession dates shaded gray. Quarterly data for coincident index, employment converted from monthly to quarterly by averaging. Source: Philadelphia Fed, BEA, BLS, NBER, and author's calculations.