What is the significance of yesterday's statement from the FOMC?
Here's what the Fed said, accompanied by my running commentary:
FOMC. Information received since the Federal Open Market Committee met in June indicates that the pace of recovery in output and employment has slowed in recent months.
JDH. You don't say ([1], [2], [3]).
FOMC.
Nonetheless, the Committee anticipates a gradual return to higher levels of resource utilization in a context of price stability, although the pace of economic recovery is likely to be more modest in the near term than had been anticipated.
JDH. I take that to mean that the Fed does not share Paul Krugman's fear of outright deflation. They must be persuaded that they have ample firepower, should the need arise later, to persuade the public that they're really, really not going to tolerate deflation. Notwithstanding, the ongoing downward slide in inflationary expectations is far from the optimal policy at the moment. The Fed is worried that being too convincing in communicating their intention to prevent deflation could move expectations too far in the other direction, so they don't want to shoot their big cannons too early. But how could they give those expectations a small-epsilon nudge that at the moment seems very much called for? Maybe like this:
FOMC. To help support the economic recovery in a context of price stability, the Committee will keep constant the Federal Reserve's holdings of securities at their current level by reinvesting principal payments from agency debt and agency mortgage-backed securities in longer-term Treasury securities.
JDH. Let me offer a little background on the significance of this move. The Fed's response to recent financial strains has gone through two distinct phases. During 2007 and 2008, the Fed stepped in with direct lending measures such as the Term Auction Facility (essentially a term discount window open to all depository institutions on an auction basis), foreign currency swaps (used to assist foreign central banks in lending dollars), and the Commercial Paper Funding Facility (which helped provide loans for issuers of commercial paper). These measures were initially funded by selling off some of the Fed's Treasury holdings, and later with expansion of reserves that remain idle at the end of each day on banks' balances with the Fed. The purpose of this first phase was to try to provide support for these particular markets during the financial strains at the peak of the crisis.
All Federal Reserve assets, in billions of dollars, seasonally unadjusted, from Jan 1, 2007 to Aug 4, 2010. Wednesday values, from Federal Reserve H41 release.
Agency: federal agency debt securities held outright;
swaps: central bank liquidity swaps;
Maiden 1: net portfolio holdings of Maiden Lane LLC;
MMIFL: net portfolio holdings of LLCs funded through
the Money Market Investor Funding Facility;
MBS: mortgage-backed securities held outright;
CPLF: net portfolio holdings of LLCs funded through the Commercial Paper Funding Facility;
TALF: loans extended through Term Asset-Backed Securities Loan Facility plus net portfolio holdings of TALF LLC;
AIG: sum of credit extended to American International Group, Inc. plus net portfolio holdings of Maiden Lane II and III plus preferred interest in AIA Aurora LLC and ALICO Holdings LLC;
ABCP: loans extended to Asset-Backed Commercial Paper Money Market Mutual Fund Liquidity Facility;
PDCF: loans extended to primary dealer and other broker-dealer credit;
discount: sum of primary credit, secondary credit, and seasonal credit;
TAC: term auction credit;
RP: repurchase agreements;
misc: sum of float, gold stock, special drawing rights certificate account, and Treasury currency outstanding;
other FR: Other Federal Reserve assets;
treasuries: U.S. Treasury securities held outright.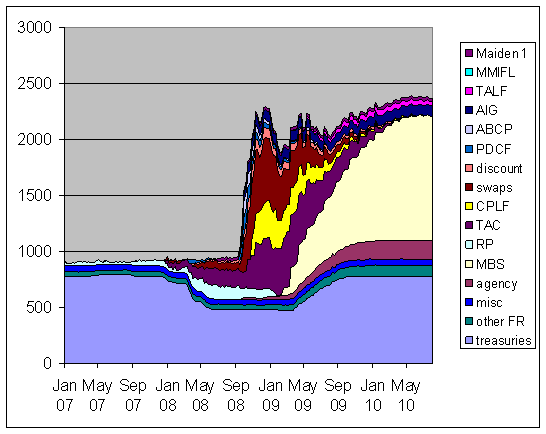 The Fed has since wound down most of these measures, replacing them with the gradual purchase of up to $1.1 trillion in mortgage-backed securities. The Fed has also repurchased some Treasury securities, buying longer-maturity bonds than it traditionally held. The Fed's previous plan had been to allow its balance sheet to shrink as the mortgages were gradually paid off. The new plan is to replace maturing MBS with long-term Treasuries.
Federal Reserve Treasury holdings by maturity, Wednesday levels, in billions of dollars, seasonally unadjusted, from Jan 1, 2003 to Aug 4, 2010, from Federal Reserve H41 release.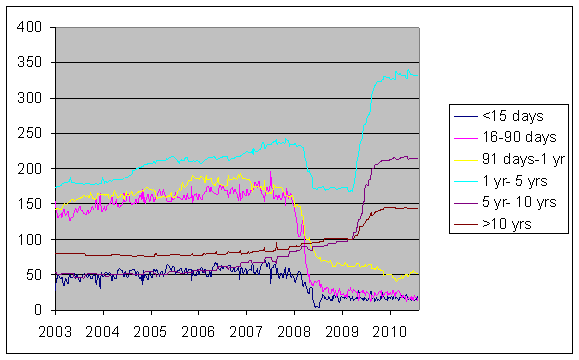 Some analysts have described the plan to replace maturing MBS with Treasury bonds in the Fed's portfolio as preventing a decline in liquidity, though I do not think that is the best terminology. We are talking here about something very different from traditional open market operations, whose immediate impact comes from changing what I think of as true liquidity, namely the supply of excess reserves. In normal times, changing excess reserves by even a billion dollars could have a measurable effect on overnight interest rates. Today, however, there is a glut of reserves, and changes in the total quantity of reserves are largely irrelevant. To the extent that the operations we are talking about have an effect on the economy, they come not from changing the supply of reserves (on the liability side of the Fed's balance sheet), but instead by changing the supply of the long-term assets that the Fed is holding outright. Having any effect from such changes requires operations in the hundreds of billions or even trillions of dollars.
By buying MBS, the Fed hoped to take enough of the supply off the market to raise the price of these assets, in other words, to lower their yield and thus encourage more borrowing. Buying MBS could in principle both lower the spread between mortgage rates and Treasury rates, and, by reducing the supply of all long-term assets, lower all long-term interest rates including the T-bond rate itself. By swapping retiring MBS for Treasuries, the Fed is saying it wants to continue the second effect, but try to ease out of the business of trying to allocate capital to housing in particular.
I am currently working on a research project to try to come up with better measures of the economic effects of these kinds of operations, whose results I hope to be sharing with readers in a few weeks. But for now, let me use the estimates from a recent study by Joseph Gagnon and co-researchers at the Federal Reserve Bank of New York. Their estimates imply that reducing the supply of long-term assets by an amount equivalent to 1% of GDP would lower the yield on 10-year Treasuries by 4.4 basis points. Let's say we're talking in terms of $200 B in additional long-term Treasuries purchased over the next year. That would come to 1.37% of GDP. In other words, if the Fed had done nothing, we might have seen long term yields rise by (4.4)(1.37) = 6 basis points. By yesterday's announcement, the Fed will perhaps keep the 10-year yield at 2.80% instead of 2.86%.
I think that qualifies as a small-epsilon nudge.