Here I comment on some recent developments affecting oil and gasoline prices.
There is no oil shortage in the central United States, and has not been for some time, thanks to increased production from Canadian oil sands, North Dakota, and the Midwest United States:
At the same time, demand in the U.S. is down, as Americans are driving fewer miles than in 2008 with more fuel-efficient cars:
The result has been that oil is piling up in the central U.S. With inadequate pipeline capacity to transport that crude so that it could replace more expensive oil imported by refineries on the U.S. coasts, a dramatic divergence developed between the price of oil in the central U.S. (as represented by West Texas Intermediate) and that paid by refiners on the U.S. coasts (which is close to the European benchmark Brent).
Prices (in dollars per barrel) of West Texas Intermediate and Brent, weekly, Jan 4, 2008 to May 15, 2012. Data source:
EIA, with latest observation from Oil-Price.net.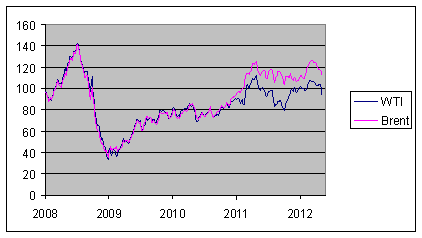 However, as U.C. Berkeley Professor Severin Borenstein and University of Michigan Professor Ryan Kellogg note in a new research paper, that discrepancy in cost of crude did not translate into differences Americans pay for gasoline in different parts of the country. The main reason is, unlike crude oil transportation capacity, our pipelines for moving refined products were adequate to enforce the law of one price for the wholesale gasoline market.
The result is that the U.S. retail price of gasoline has been following the international price of crude oil rather than the price received by producers in central North America.
Yellow: average U.S. price of regular gasoline, all formulations, in dollars per gallon, weekly Jan 7, 2008 to May 14, 2012. Data source: EIA.
Blue: 0.8 plus 0.025 times price of West Texas Intermediate, Jan 4, 2008 to May 15, 2012. Fuchsia: 0.8 plus 0.025 times Brent price. Data source: EIA, with latest entries from Oil-Price.net.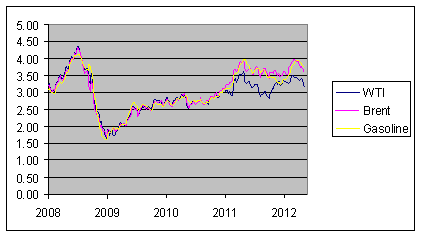 The process of building new infrastructure to move crude to refineries on the American coast is now underway. Canadian pipeline company Enbridge issued this press release last week:
Enbridge announced it had received sufficient commitments from shippers to upsize its proposed Flanagan South Pipeline Project and, with joint venture partner, Enterprise Products Partners, L.P. (Enterprise) to twin the Seaway Crude Pipeline System, bringing Enbridge's expected investment in its U.S. Gulf Coast initiative to $5.2 billion.

"The commitments secured in the open seasons held in the fourth quarter of last year and the first quarter of 2012 will support additional infrastructure to meet the growing transportation needs of Bakken and western Canadian producers and U.S. Gulf Coast refiners, contributing to North America's energy security," said [Enbridge CEO Patrick] Daniel. "The new upsized Flanagan South Pipeline, combined with our existing Spearhead Pipeline system, will offer shippers 775,000 barrels per day of capacity from Flanagan to Cushing, with the Seaway Crude Pipeline System reversal and expansion offering capacity of 850,000 barrels per day from Cushing to the Gulf Coast."
The first shipments through Seaway should take place this week.
Reuters reported on Monday:
U.S. cash crude differentials
were weaker for light sweet crudes on Monday as two cargoes of
550,000 barrels of light sweet, domestic crude offered off the
Seaway pipeline were seen pushing down the differential of the
Gulf's benchmark cash crude.

Changing relationships between sweet and sour crudes are
seen as a result of the reversal of the Seaway crude pipeline
around May 17, which initially will carry 150,000 bpd of crude
out of the oil hub of Cushing, Oklahoma to Gulf Coast
refineries.
What will this mean for the price Americans in the Midwest pay for gasoline? Borenstein offers this assessment on the Energy Economics Exchange blog:
The first stage of the Seaway will narrow the crude price differential only partially, but even as its capacity expands and other new pipelines come on line, the narrowing of the price spread will have no discernible impact on prices at the pump….

when the price of crude dropped in the Midwest during 2011 (relative to the rest of the world), the price of gasoline and diesel in the Midwest continued to be set by the marginal supply, which was coming from the Gulf Coast. Midwest refineries made big profits refining cheap crude, and selling the output at prices set by higher-cost crude in the Gulf. They weren't doing anything nefarious; they were just the lucky beneficiaries of being in an oil-rich area that, temporarily, couldn't get its crude oil to world markets.

The new pipeline capacity between the Midwest and the Gulf Coast will have big economic impacts. Oil producers in the Midwest and Canada will be able to sell their output for higher prices and refiners in the Midwest will see the sweet ride they've been on for the last year and half start to come to an end. But this will be a non-event at the local gas station.
At the same time that the new pipelines start to deliver oil to the coast, supplies are for now looking more ample globally as well. The IEA estimates that global oil production was 600,000 barrels/day higher in April than in March, led by increases in Iraq, Nigeria, and Libya. Their estimates put production 3.9 mb/d above April of last year and about 2 mb/d above the previous peak reported by IEA prior to last year's cutbacks from Libya. The recession in much of Europe and slowing of growth in the U.S. and China are other factors restraining growth in demand.
All of which means that near-term prospects are for lower gasoline prices, even for consumers in the American Midwest.