Two weeks ago, I commented on the tendency of U.S. retail gasoline prices to follow the price of Brent crude oil, anticipating on the basis of the price of Brent, then at $91.50, that we might expect to see average U.S. retail gasoline prices, then at $3.47, to fall an additional 35 cents/gallon. The gasoline price has since come down about 11 cents. But with Brent now surging back up near $100, this is about all we can expect.
Here's an update of the Brent price and predicted gasoline price. With gasoline down and Brent up, the two are back to their long-run relation.
Black: average U.S. price of regular gasoline, all formulations, in dollars per gallon, weekly Jan 10, 2000 to Jul 2, 2012 (data source: EIA).
Blue: 0.84 plus 0.025 times price of Brent, in dollars per barrel, weekly Jan 7, 2000 to Jun 12, 2012 (data source: EIA) with Jun 29 value estimated from Oil-Price.net.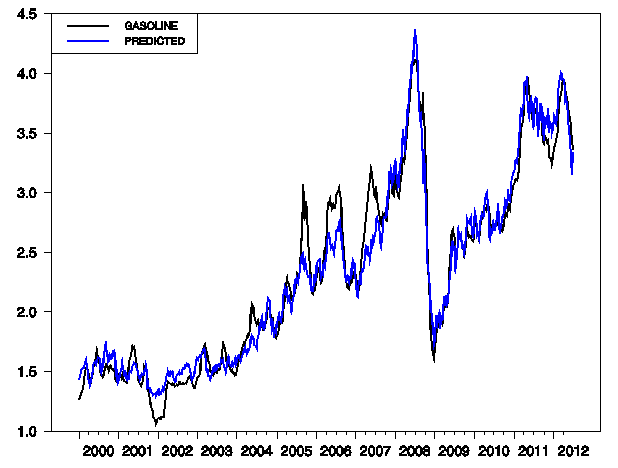 Ironman at Political Calculations has been kind enough to let us reproduce his tool for calculating the expected U.S. average retail gasoline price based on its long-run cointegrating relationship with the price of Brent crude oil. Just input the current (or your hypothesized) value for Brent in the box below, and click "calculate." If you need a hint, I also include a self-updating graphic that displays the current price of Brent, courtesy of Oil-Price.net
And here is also a self-updating plot of GasBuddy's estimate of the average U.S. retail price, though if you click its "show crude oil price" option, it uses WTI, which is less useful than Brent for predicting the price of gasoline.