Yesterday the BEA finally reported GDP numbers for the third quarter, a month later than originally scheduled owing to the earlier shut-down of federal operations. The U.S. economy is estimated to have grown at an annual rate of 2.8%. That's below the historical average, but better than the previous three quarters.
U.S. real GDP growth at an annual rate, 1947:Q2-2013:Q3. Horizontal line at 3.1%, the historical average.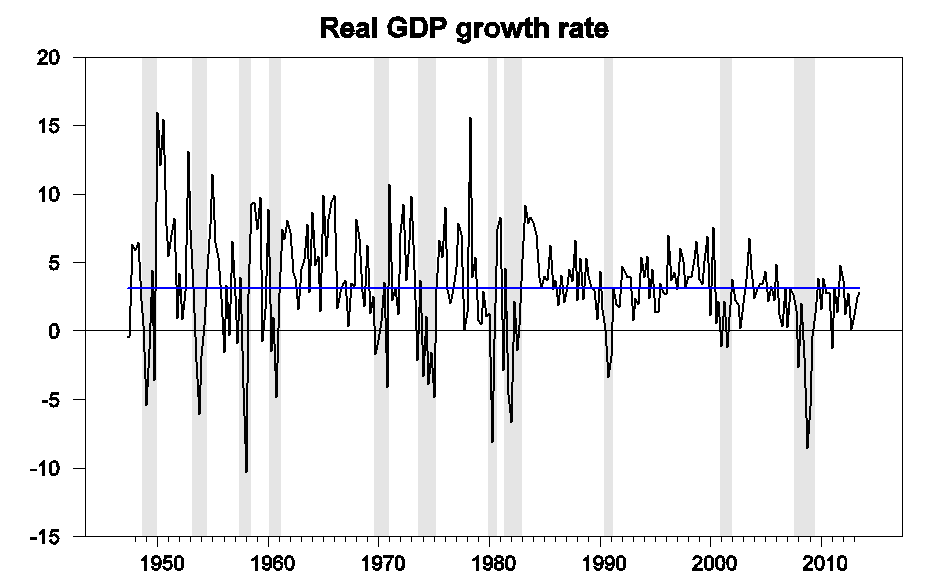 The gradual improvement in the growth rate has brought our Econbrowser Recession Indicator Index back down to 12.4%. The weak performance earlier this year had led to a moderate spike in this summary statistic, though far from the 67% threshold at which we would declare that the economy had entered a new recession. Note that in calculating this index we allow one quarter for data revision and trend recognition. Thus the latest value, although it uses the GDP numbers released yesterday, is actually an assessment of the state of the economy as of the end of 2013:Q2. However, our index is never revised, so that the numbers plotted in the graph below since 2005 are exactly the values as they were reported one quarter after each indicated historical date on Econbrowser.
GDP-based recession indicator index. The plotted value for each date is based solely on information as it would have been publicly available and reported as of one quarter after the indicated date, with 2013:Q2 the last date shown on the graph. Shaded regions represent the NBER's dates for recessions, which dates were not used in any way in constructing the index, and which were sometimes not reported until two years after the date.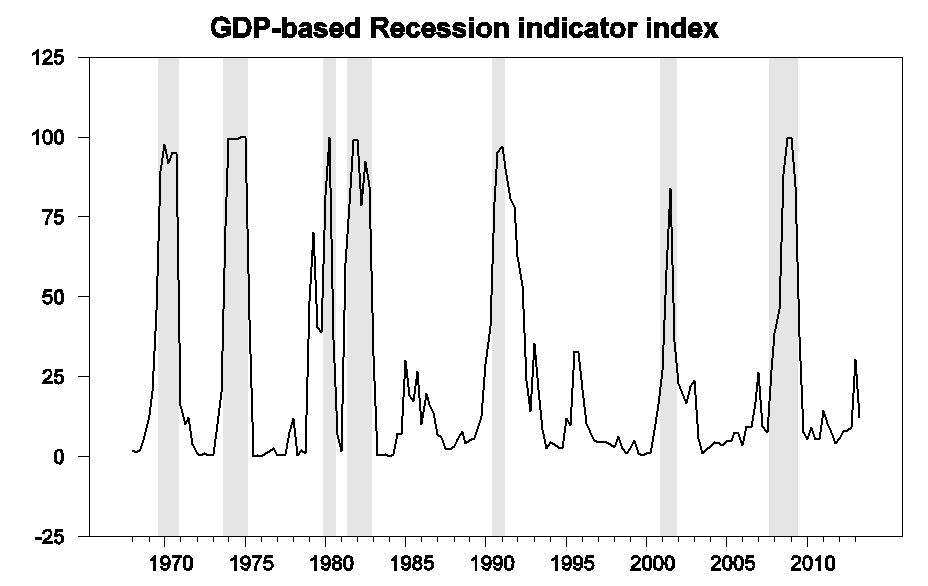 In terms of the individual components of GDP, 0.83 percentage points of the 2.8% total came from inventory rebuilding– real final sales were up at less than a 2% rate. Another 0.8 percentage points of the improvement over the second quarter came from a reported decline in import growth, a number that is particularly subject to revision. But despite the government shutdown in September, the fiscal drag that showed up in the 2012:Q4-2013:Q1 figures has disappeared. In addition, housing continues to make a modest positive contribution.