The Bureau of Economic Analysis announced today that U.S. real GDP grew at a 0.5% annual rate in the first quarter. That's disappointing, even by standards of the weak growth that has become the norm since getting out of the Great Recession.

Housing investment was one bright point. Another was growth in government spending at the state and local level which more than made up for a drop at the federal level. An important drag came from the decline in exports, reflecting economic weakness outside the United States. The biggest negative was a drop in nonresidential fixed investment, which by itself subtracted 3/4 of a percent from the Q1 annual growth rate.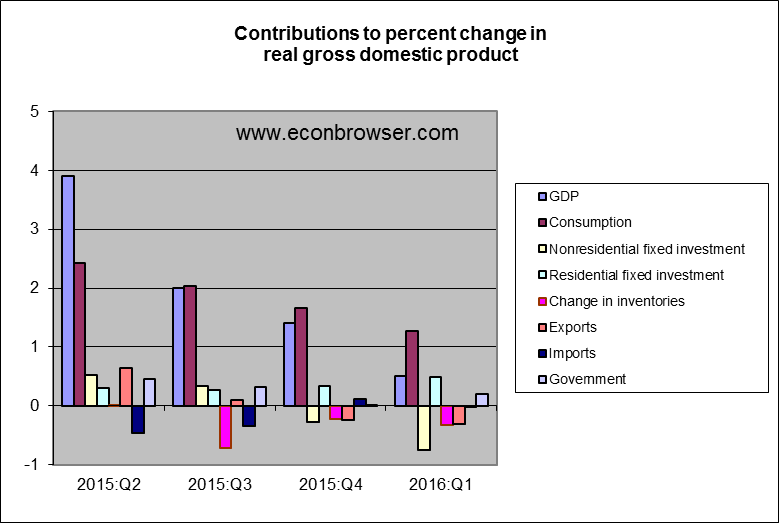 Further declines in investment spending in the oil-producing sector contributed to that. Domestic spending on mining exploration, shafts, and wells is now down more than $100 billion at an annual rate (about 6/10 of a percent of total U.S. GDP) from the levels seen in the summer of 2014.
The disappointing Q1 GDP numbers brought our Econbrowser Recession Indicator Index up to 15.7%. The index uses today's data release to form a picture of where the economy stood as of the end of 2015:Q4. That's still significantly below the 67% threshold at which our algorithm would declare that the U.S. had entered a new recession.
U.S. growth is certainly facing some significant headwinds, and lower oil prices do not appear to have helped. Nevertheless, the employment numbers have been showing strong momentum, and housing can make further positive contributions in the coming two years. Maybe not enough to get us back to 3%. But we can still hope to get back to 2%.