The Bureau of Economic Analysis announced yesterday that U.S. real GDP grew at a 2.9% annual rate in the second quarter. That's below the historical average U.S. growth rate of 3.1% per year. Even so, this was the best report in the last two years.

The relatively favorable report brought our Econbrowser Recession Indicator Index back down to 12.2%. The index uses yesterday's release to form a picture of where the economy stood as of the end of 2016:Q2. The index previously had been somewhat higher due to the earlier string of weaker GDP reports.
The most important factor in the improvement in GDP growth was real exports. These grew at a 10% annual rate in the third quarter and contributed 1.2 percentage points to the 3.1% total GDP growth. The BEA offered this explanation:
The acceleration in exports was mostly attributable to an acceleration in exports of foods, feeds, and beverages, mainly reflecting an increase in exports of soybeans. This increase in soybean exports was largely offset by decreases in components of nonfarm and farm inventory investment, most notably in merchant wholesale inventories of "farm product raw material."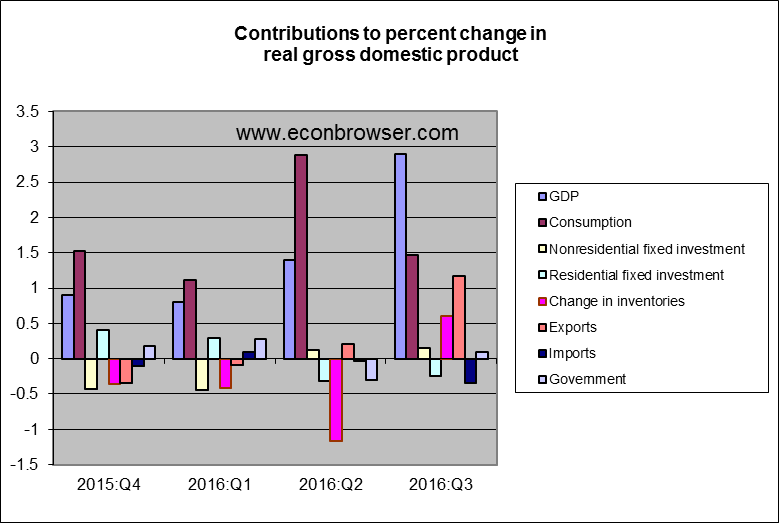 The Council of Economic Advisers suggested that U.S. exports in the previous three quarters had been somewhat weaker than was warranted by the observed global economic slowdown, with the Q3 estimate more in line with recent growth rates of our main trading partners.

The long-run growth rate we should expect for the U.S. economy is now presumably below the 3% historical average as a result of a slower growth rate of the working-age population.
I nevertheless believe we should still expect to see a period with U.S. GDP growth above whatever the new long-run trend might be. The graph below plots spending on autos and home construction as a percent of GDP. These indicators are usually above average in an expansion, when GDP is growing faster than trend, and below average when GDP is growing slower than trend. Both have been stuck well below their historical averages ever since the Great Recession. But it would be a mistake to assume they're going to be stuck there forever.
Bill McBride argues that we will still see a rebound in housing. And when it comes, nonresidential fixed investment should follow.