What the interest differentials say
One of my long term interests is in the predictability of exchange rates, particularly over the longer term — at horizons of quarters if not years.
One recent paper coauthored by myself, Yin-Wong Cheung and Antonio Garcia Pascual examined the
long horizon (1 quarter, 1 year and 5 year) predictability of the USD against the DM, Yen, Pound, Swiss Franc, and Canadian dollar. We compared several popular models, including the Dornbusch and Frankel
sticky price monetary model, a model based upon productivity differentials, interest rate parity (essentially the forward rate), and a specification incorporating many of these channels — sometimes called
BEERs (for behavioral equilibrium exchange rate models). All of these were compared against a random walk characterization of the exchange rate.


We found that, using a mean squared error criterion, there was little evidence of outpredicting a random walk, although at long horizons, interest differentials did the best.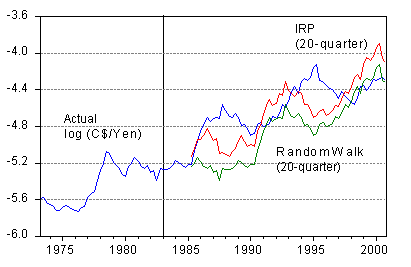 When we used a direction-of-change metric, we obtained greater evidence of outprediction (easier to predict direction than level), and found the same model, interest rate
parity, did best. But this pattern held primarily at long horizons (5 year) rather than at short horizons. This reflects the well known finding of forward rate
bias in exchange rate literature. In fact, at short horizons, the interest differentials point in the wrong direction.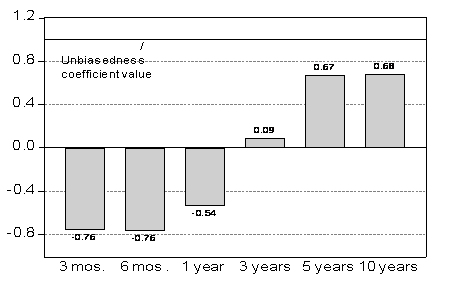 If forward exchange rates were unbiased predictors of future spot rates (i.e., if interest differentials were unbiased predictors of exchange rate depreciations), then assuming
away issues of nonstationarity, the beta coefficient should be one. Obviously at short horizons, they're not. But at longer horizons, they do get closer to the value of unity.
Guy Meredith and I discuss this finding in greater detail here. If you are a sucker for
punishment, you can read another, wider ranging, paper on the subject. Truly interested people can
download the data (but you have to promise to cite our paper if you publish using the data!).


Should we conclude from this that all we need to pay attention to is long term interest rates, if we want to predict the dollar's value in the long term?
If so, then we can refer to the following rates to make our judgments: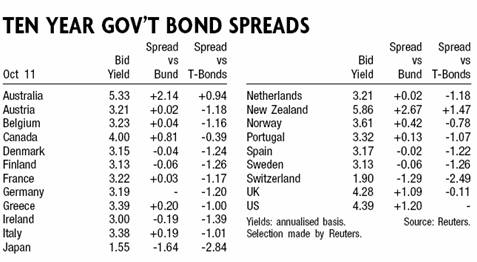 The spreads are recorded as foreign interest rate minus US interest rate, where the interest rates are on ten year bonds (of various maturities). I will assume
for the sake of simplicity that the duration of these bonds is about 5 years (i.e., that they have about five years until they mature, on average). If
this is the case, then the spread of -2.84 ppt. (1.55 ppt – 4.39 ppt) implies that the yen will appreciate against the dollar on average of -2.84 ppt per year for the
next five years. And the pound will appreciate an average 0.11 ppt per year for the next five years. Of course, you may lose lots of money if you try to exploit this relationship, since the interest parity relationship, even at the long horizon, is not
a strong one (the adjusted R-squared from the regression of 5 year changes on 5 year interest rates is 0.05). At the short horizon (one month, 3 months), don't even try using this for
G-5 currencies — the forex traders make plenty of money betting against this relationship (it's called the carry trade).


One last caveat in using interest rates. The past couple of years have seen what some considered aberrant behavior in long term interest rates. Several papers (Chinn and Frankel;
Warnock and Warnock) have discussed this. So it may prove even more perilous than usual to rely on long term interest rates to infer dollar movements.


More speculation on what does and does not work (from an academic/policy perspective, and not a money-making perspective) can be found in this
presentation.