The messages from the 05q3 Preliminary GDP release.

The preliminary figures for the 3rd quarter GDP were released this morning. While the upward revision of real GDP growth to 4.3 percentage points at the seasonally adjusted annual rate caught most of the attention, it's also of interest to consider the other figures.
First, consider the trends in net exports to GDP and net exports ex. oil imports. While net exports have stabilized as a proportion of GDP, non-oil net exports have actually started to rise (accounting for net natural gas imports only changes the level a little, by about 0.2 percentage points of GDP). This suggests that high energy prices might be crimping non-energy spending (although this uptick is also consistent with the effects of last year's dollar depreciation finally feeding into tradables prices).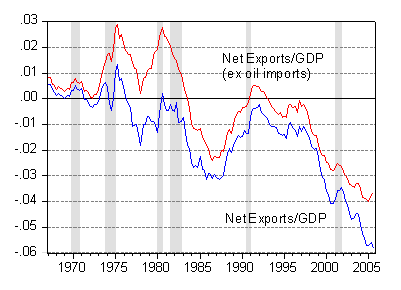 Second, investment in residential investment continues to rise through the 3rd quarter, albeit at a slower pace. In fact, the share of GDP devoted to this activity is unprecedented in the past 30 year period; if the past is any guide, this sector is in for a large contraction.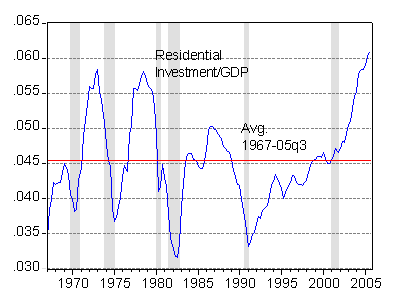 This pertains to the issue transferring resources from the nontradables to tradables sector discussed in my post a couple weeks ago. Reallocating labor and capital out of this sector and into manufacturing and tradable services (business process services?) may entail some large adjustment costs.