Did recent surge in tax revenues signal a meaningful improvement in fiscal prospects?
During the summer, the Administration pointed to the surge in tax revenues and the decrease in the current year's budget deficit as proof that the deficit is on a path for sustained improvement.

According to the Congressional Budget Office's Outlook published in August, the relief is temporary, and in fact does not show up in the direction of the debt/GDP ratio. Only when the tax cuts expire in 2011 does the debt/GDP ratio improves. See
CBO, The budget and economic outlook: An update, August 2005..
Using the CBO's figures, plotted the baseline projection of the debt-to-GDP ratio in red.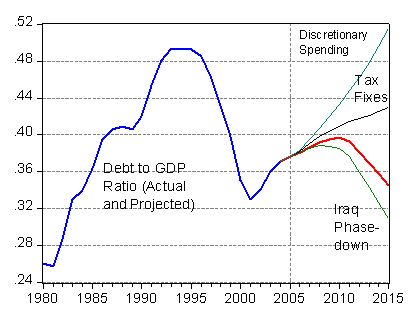 This projection incorporates expectations that discretionary spending grows at the rate of inflation, and that expenditures in Iraq remain at their 2005 levels (in inflation adjusted terms). It is true if there is a drawdown in forces, then the outlook improves faster (green line, labeled "Iraq Phasedown", author's calculations). However, if the 2001 and 2003 tax cuts are made permanent, then the black line labeled "Tax fixes" traces out the trajectory of debt-to-GDP. Finally, if discretionary spending grows at the rate of nominal income — a much more realistic proposition, given historical norms — then the teal line labeled "discretionary spending" is the applicable one. In other words, spending restraint on its own is not sufficient to put us on a sustainable path. Indeed, it is not implausible that the debt-to-GDP ratio hits 52% in fiscal year 2015.