Chinese foreign exchange reserves and current account surpluses are (still) rising. Why and how important is this phenomenon?

It seems to me these days that every topic, be it trends in the labor market, the current account deficit, or interest rates, comes back around to the role of China in the global economy. I do not want to minimize the role of China — its entrance into export markets and commodity markets, as well as its acquisition of U.S. Government debt have had profound effects on the global economy. I think it is worthwhile to step back for a second to provide some quantitative context back into this discussion of China's role (much as others have assessed the impact of Chinese exports on US goods prices).

In particular, (inferred) accumulation of U.S. Government securities rose during 2002-04 largely as a function of what was presumably hot-money (specifically portfolio capital as opposed to FDI), as shown in these estimates kindly provided by Brad Setser.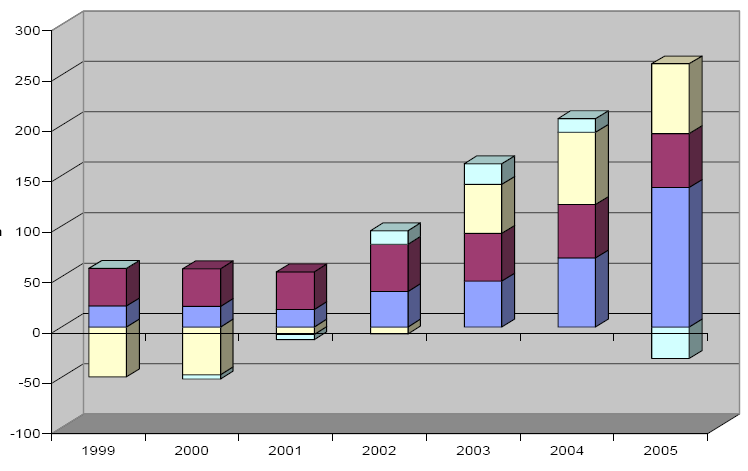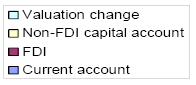 Source: Brad Setser, RGE Monitor
[Legend: last year reported here is 2005; cream is non-FDI flows, burgundy is FDI flows, blue is current account, and light green is valuation changes]. These are big numbers, even in comparison to the U.S. current account deficits in the hundreds of billions of dollars. In 2005, the main impetus for reserve accumulation shifted from "hot money" to current account surplus. Once again, these are big numbers, even compared to the US current account deficit of around 6.5% of US GDP.

These trends are important when people assess stories that attribute all of the Chinese foreign exchange accumulation to either (1) mercantilism a la the Dooley/Folkerts-Landau/Garber world view, or (2) the Bernanke global "savings glut" view. The mercantilist view, as pointed out by Prasad and Wei, is hard to square with the steadfast resistance of China to competitive devaluation in 1997-98. It is also hard to square with the portfolio capital inflows driving reserve accumulation in 2002-4. Similarly, it is not clear to me that savings by the People's Bank of China via reserve accumulation is what Bernanke had in mind when he pointed to a savings glut (otherwise, financial and institutional development would have little place in his prescription for solving the global imbalances).

Now, this brings us to the issue of whether the current situation in 2005-06is a good example of the global savings glut in action. After all, the Chinese current account balance is now $128.5 billion in the year ending 2005H1. Maybe, but I think the following picture should put in perspective the Chinese contribution to the US current account imbalance.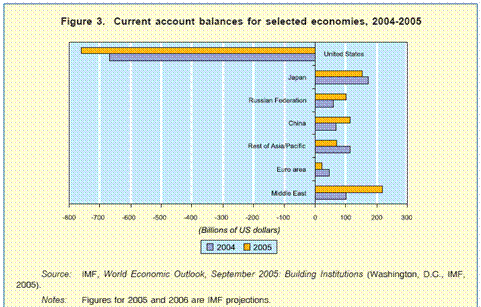 Source: UNESCAP, Key Economic Developments and Prospects in the Asia-Pacific Region 2006 (Dec. 2005).
China is important, but so are other parts of the world. The fact that the United States so dwarfs the other imbalances is telling. And it reminds me of this question I ask myself. In most of the macroeconomics that we teach our students up until the present (and I still teach my students), developments in the United States largely drive developments abroad. Why have we suddenly dropped our US-centric world view, when it is U.S. behavior that seems so anomalous? The global savings glut view favors viewing the excess savings in the rest of the world having to flow to the US. But imbalances have to sum up to zero (up to a statistical discrepancy). Doesn't it make more sense to say that the US is sucking savings from the rest of the world. And part of this is driven by fiscal profligacy, where heretofore low interest costs have encouraged the Administration and the Congress to spend and spend and cut and cut taxes?

This brings me full circle, back to this focus on China. If China were to revalue by 20%, given that a large portion of its exports incorporate imported inputs, would that change the basic pattern of global imbalances? Or would East Asia pick up the slack? And even if East Asian currencies appreciated with the renminbi, would that reduce the US imbalance, or would our deficits merely shift to India? I think that by and large, the imbalances may be somewhat reduced, but not eliminated.

This analysis may seem inconsistent with my previous call for greater renminbi flexibility. But I want to be clear that greater renminbi flexibility would help ease the way toward eventual adjustment — but it in itself will not cure the US current account imbalance. Consumption, both private and especially public, must be adjusted downward in order for a substantial reduction in global imbalances to occur. Unfortunately, I don't see any substantial move to reduce the public part of excess spending in the Administration's current budget proposal.
Technorati Tags: href="http://www.technorati.com/tags/trade+deficits">trade deficits,
Chinese trade,
budget deficits