Cognitive Dissonance in the 2006 Economic Report of the President

One of the most discussed phrase in the State of the Union Address was "oil addiction". Even now, highlighted on the White House website is this link on energy issues.


In order to see just what the Administration has in mind in terms of substantive policies, it is probably useful to go beyond press statements. In this regard we are fortunate, as the Administration has just released two major documents pertaining to energy issues — the Economic Report of the President (hereafter ERP and the Annual Energy Outlook (hereafter AEO). The latter contains a number of projections that confirm that the United States, under a number of plausible assumptions, will continue to import most of the petroleum it consumes. Specifically, the AEO reference scenario indicates that by 2015, net crude oil imports will be 10.47 million barrels per day (mbd), compared to 2004 imports of 10.06 (p. 115), although DeutscheBank predicts a much higher level of 11.74 mbd. As I have noted in a number of occasions, the increase in the value of oil imports has accounted for almost half of the increase in the trade deficit since the end of 2001.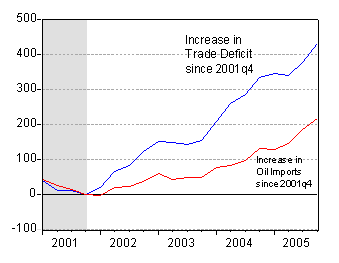 Source: Author's calculations based on Jan 2006 NIPA release

How does the CEA see the energy issue, and what does it recommend in the way of achieving the aim of reducing our oil addiction? In the Energy chapter of the ERP (p. 232), the authors state:
Absent policy, individual energy market participants may not have an incentive to tackle certain problems associated with their energy production and consumption. Carefully targeted policies that reduce U.S. vulnerability to energy disruptions, encourage energy efficiency, and protect the environment can therefore be beneficial supplements to markets. These policies can be made more effective and less costly when designed based on economic incentives.

Economists should focus on relying upon market incentives, particularly those that yield a benefit-cost ratio in excess of unity. The remarkable thing is that while there are tremendous numbers of references to "tax credits" (just do a search in the PDF and see), there is not a single to "taxes". And yet, in any appeal to efficiency and economic incentives, taxes as well as subsidies should be considered, especially insofar as one believes there are negative externalities associated with consuming — and importing — fossil fuels. Interestingly, there is discussion of how imposing new CAFE standards would affect energy use — both in the ERP and the AEO, without much criticism. I find that aspect interesting, given the fact that such command and control approaches are the least "incentive"-like, and least favored by economists, that there is so much stress on these standards, and other interventions. (Box 11-1 does discuss the new CAFE standards for light trucks as being set according to criteria to minimize costs relative to benefits — but why not just use the incentives so lauded at the beginning of the chapter? CBO estimates that a 46 cent/gallon tax would induce a 10% reduction in consumption with 3% less cost than what would occur with new CAFE standards, with or without permit trading)


This reliance on subsidies and command-and-control remains true despite the fact that if the President really wished to reduce our "addiction" to imported oil, the most effective way of accomplishing this aim would be an energy tax. That is because on the supply side, production is unlikely to rise strongly given the depletion of onshore reserves, even with the most generous subsidies. In addition, production takes years to put into operation. Moreover, a tax acts immediately, while standards would take longer to have an impact on consumption (since it would have to work through an alteration of the capital stock embodied in trucks and cars). Furthermore, a tax has a further advantage that it reduces the price foreigners — including Saudi Arabia and Iran — would receive for their oil exports. In this sense, it has a similar effect as an oil tariff, although it is WTO-consistent, while a tariff would not be.


A back-of-the-envelope calculation can be useful in defining the potential impact of a gasoline tax. In 2004, the United States imported about $180 billion worth of petroleum and petroleum-related products, equal to about one-third of the trade deficit. Ignoring interaction effects, a $1 per gallon tax on gasoline would reduce annual petroleum imports by $10 to $25 billion, or about 1.6 percent to 4 percent of the trade deficit. The calculation relies upon estimates of the gasoline demand elasticity of 0.3 percent to 1.0 percent. Specifically, each barrel of oil yields approximately 19.5 gallons, and U.S. consumption was 19.4 billion gallons.


An additional benefit of such a tax would be the increased government spending revenues that would result. Based upon the CBO estimates, I estimate such a tax would increase tax receipts by $105 billion in the short run, and $110-125 billion in the long run. (The actual estimates are reported in CBO, Reducing Gasoline Consumption: Three Policy Options (November 2002).)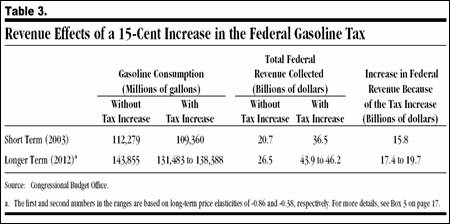 Source: CBO, Reducing Gasoline Consumption (Nov. 2002).

One digression: the ERP also makes mention of the impact of ANWR:
According to estimates by the U.S. Geological Survey (USGS), the
1.5-million-acre coastal plain of ANWR and adjacent Native lands and state offshore waters hold between 5.7 and 16 billion barrels of technically recoverable reserves, with a mean estimate of 10.4 billion barrels-enough to supply 1 million barrels per day for over 28 years. (p. 238)

There is one interesting figure from the AEO that should resolve the importance of opening up ANWR: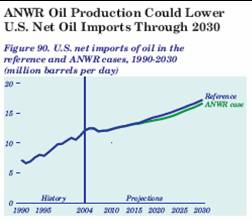 Source: Energy Information Administration,
Annual Energy Outlook
, (February 2006).

The foregoing suggests that if the objective is to end oil addiction — at least in my lifetime — the current set of Administration plans will not achieve that goal.

Technorati Tags: href="http://www.technorati.com/tags/oil+addiction">oil addiction,
gasoline tax
Economic Report of the President