What's behind the ongoing run-up in gold prices? One popular interpretation is that investors fear a resurgence of U.S. inflation. But that story just doesn't square with the facts.
The above graph shows the spread between the yield on standard 10-year U.S. Treasury bonds and the yield on 10-year U.S. Treasury inflation-protected securities (TIPS), whose coupon and principal both increase each year with the consumer price index (CPI). This spread is basically a measure of the expectations of inflation that are built into the TIPS yields. This expected inflation rate rose 100 basis points between 2003 and 2004, but has been virtually constant for the last year and a half at a value around 2-1/2 percent. Fears about a resurgence of inflation? Not in these bond yields.
I often hear stories along the lines of, "the bond market doesn't expect inflation but the gold market does." But this makes no sense. Markets are fully integrated, and there's no reason why somebody with a particular world view wouldn't try to grab spectacular returns wherever they might be found. If you think that U.S. inflation is going to be substantially above 2.5%, there's no question that you want to go long TIPS and short the nominals. If gold and bonds are sending conflicting signals, it has to be due to some fundamental differences in the conditions under which the two assets will perform.
For example, if you were worried about a surge in prices that was not that strongly correlated with the CPI– perhaps a rise in the price of traded goods relative to nontraded goods– that might do it. But the story then is not a fear that the Fed wouldn't do its job. On the contrary, bond yields are reflecting confidence that the Fed will keep the CPI proper under check. Or the gold market could be responding to concerns not about inflation per se but rather broader financial or political instability. Certainly there are concrete developments that could warrant heightened concerns about the latter over the last few months.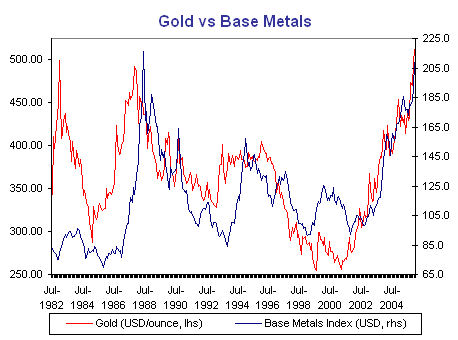 Institutional Economics notes that the gold moves should also be seen as part of a broader trend. It seems a mistake to come up with a completely different story for gold, oil, copper, aluminum, zinc, and so on, when they've all been exhibiting similar behavior. To be sure, there are separate important factors in supply and demand that are unique to each one. But there is also something to be said for focusing on the factors that are common to them all.
We've seen a pretty impressive surge in commodity prices relative to other prices. But that is not quite the same thing as inflation, in which the price of a broader basket of goods and services (such as the CPI) goes up at a faster rate. If you want to claim that the current gold price reflects a fear about the latter, you have to reconcile it with the way that nominal and inflation-indexed bonds are currently priced.