Henry Paulson has been nominated to the position of Secretary of Treasury. Will it matter?
Most of the commentary has been fairly upbeat, focusing on his Wall Street credentials. Bloomberg writes

He would be the first of Bush's Treasury secretaries to hail from Wall Street. Paul O'Neill, who served from 2001 to December 2002 was chairman of Alcoa Inc. when he came aboard. Snow ran railroad company CSX Corp. Neither was able to win a place in the president's inner circle and became mainly promoters of policies set in the White House.

They also note the conditions under which he has arrived.

Paulson is bequeathed an economy that expanded 5.3 percent last quarter, the most in more than two years, while the jobless rate, at 4.7 percent, hasn't been lower in four years. A surge in tax receipts means the fiscal deficit, which widened to a record on Bush's watch, will narrow faster than expected, according to the Congressional Budget Office.

Last quarter's vigor may give way to a more moderate pace of growth for the remainder of 2006. Rising gasoline prices and a softening housing market are eroding the confidence of consumers, whose spending accounts for more than half of gross domestic product. At the same time, a surge in energy and commodity prices has fanned fears about inflation pressures.

I think it has to be remembered that GDP is only one metric, and that the economy has both underperformed along a number of dimensions, and faces serious challenges in the future.


Regarding the past and present:


Regarding future challenges:


None of these trends will likely change, so beware the hype about a new economic team. Unless the process changes substantially, policymaking will remain centralized within the White House agencies. That's not necessarily a knock against centralization, but it isn't apparent to me that centralization in the last six years has led to particularly sensible economic policies.


Since I have not heard of any substantive changes in the policies themselves, expect more of the same. More tax cuts, more talk of spending restraint without actual implementation, more pro-production subsidies for energy, more deregulation. On the other hand, Paulson is known as a person who is adept at managing crises, although not necessarily financial crises. So in this sense, I welcome his nomination as bringing in much needed expertise, especially as we are likely to see more financial crises abroad as interest rates rise and US growth slows — just think about Turkey and Iceland.


Here's one picture that I think sums up the Bush Administration economic legacy thus far. Just think about whether — despite Paulson's reputation as a deficit hawk — you believe the current trajectory will alter as a consequence of this change.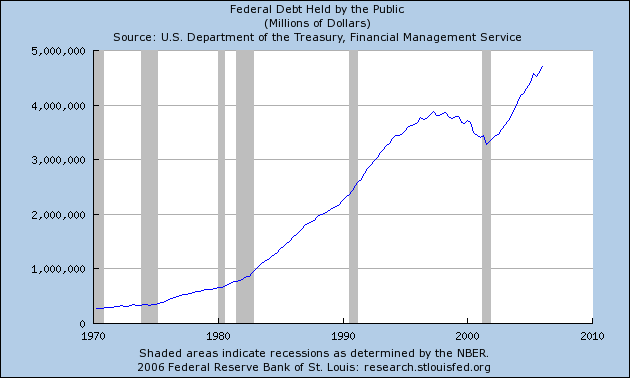 Technorati Tags: budget deficits,
current account deficits,
Henry Paulson,
tax cuts,
entitlements,
Federal debt, and
Secretary of Treasury