Oil prices can go down as well as up.
Green: average of EIA and IEA estimates of daily oil production. Purple: 9-month centered moving average. Blue: 13-month centered moving average . Source: The Oil Drum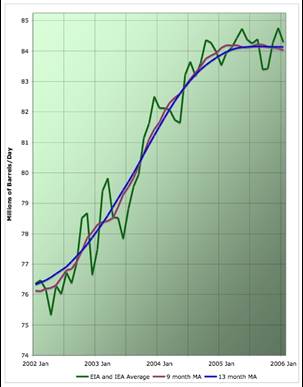 Last week Secretary of Energy Samuel Bodman warned that high gasoline prices might be here for some time, stating "we are going to have a number of years, two or three years, before suppliers are going to be in a position to meet the demands." Other analysts have renewed their forecasts of $100/barrel oil by next winter. Given how volatile oil prices have been historically, that is certainly a possibility, though the same volatility means that a big price decrease is also conceivable. Since concerns about a further move up in price have been well represented, I thought there might be some value in trying to provide some balance by calling attention to a few of the possibilities on the downside.
First let's review how we got to where we are right now. Global oil production has failed to increase over the last year, in part due to what is now looking like a permanent loss of over 300,000 barrels per day from the Gulf of Mexico and shut-in production from Nigeria. Given the current limited excess production capacity, fears about the possibility of additional supply disruptions from places such as Iran and Nigeria translate into a higher current price for crude oil. As prospects for continued global economic growth appear strong, oil prices have been bid up.
So how's any of that going to change? There remain a number of big new projects that will be coming into production over the next several years (counterargument here). And obviously if the worries about production cutbacks from Iran and elsewhere fail to be borne out, that could bring prices down. A third factor that I think deserves more attention is the effect that $70 oil and $3 gasoline will have on quantity demanded.
Gasoline demand can be difficult to predict, in part because many of the adjustments that consumers and firms make can take a long time to have their full effect. For example, the lower mix of SUVs being sold in the American market today will influence the quantity of gasoline demanded for many years to come. Given the long-run nature of such commitments, it's hard to predict the point at which people start to make those kinds of adjustments. But at current prices, I certainly expect to see some significant moves in those directions.
Data source: EIA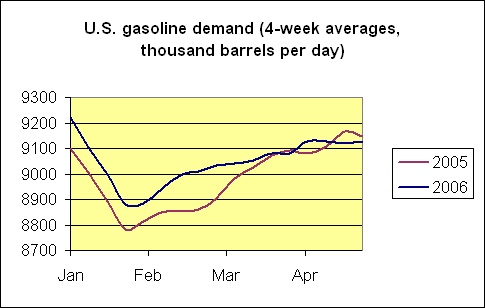 >
The graph at the right displays the quantity of gasoline supplied to U.S. wholesalers. One needs to be a little careful interpreting this series as demand, since we don't observe changes in wholesale and retail inventories, and since large week-to-week fluctuations are common. I have reduced the influence of the latter somewhat by using a 4-week moving average. These data seem to suggest that the April gasoline price increases may have been sufficient to reverse the usual tendency for the U.S. public to use more gasoline each year than the previous year. Certainly that's what we observed last fall when gas prices were around their current values, and I see no reason not to expect to see the same thing to be repeated now.
Stuart Staniford (figure below) argues that the free-market economies such as the U.S., Canada, and Europe, in which consumers have not been protected from the price increases, are the places we have seen reductions in the quantity of oil consumed so far, whereas the growth in demand is strongest where the price remains subsidized.
That is a very interesting observation, and I agree that the oil producing countries with their growing incomes may make an important contribution to global petroleum demand in the years to come. But I would hesitate to dismiss the role of the incentive to conserve even in those consuming countries where the governments currently appear inclined to pretend none of this is really happening. Even if consumers don't have an incentive to respond, the governments themselves, however unenlightened as they may be, are surely going to notice the effect of trying to maintain a subsidy on their own budgets, and eventually will find themselves without the resources to keep their fingers in the dike.
If rats and pigeons can respond to price incentives, don't assume we won't see the same thing from homo sapiens.
Percentage change in oil consumption over prior year. Source: The Oil Drum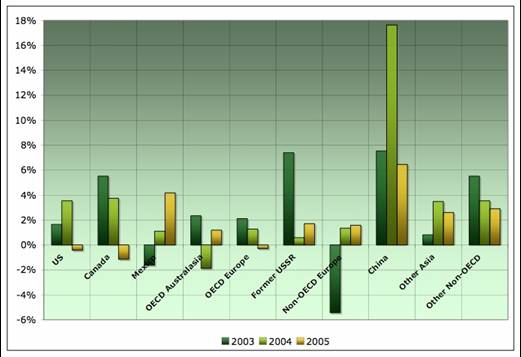 >
---
Technorati Tags: gas prices,
gasoline prices,
oil,
oil prices,
oil demand