In response to a post earlier this week on M2 and inflation, one of our readers asks why I looked at M2 rather than M3. Here's the answer.
Economists define "money" as an asset that is used to pay for transactions. Thus, for example, we don't include your credit card in any measure of the money supply, because it's not an asset. Having a credit card doesn't make you rich– I hope I'm not the first person to tell you that. We likewise don't count holdings of stock equity, because you can only use your stock wealth to buy your groceries if you first convert it into another asset. The quantity of money in circulation would be of economic interest insofar as it bears a stable relation to the dollar value of transactions that get undertaken.
Certainly money does include the green cash you hold along with any account you can write a check on, as well as items such as travelers checks or a savings account whose funds get automatically transferred to cover checks you may write. All these assets get added together to calculate the measure of the money supply known as M1.
But even a savings account that is not automatically transferred to checkable funds can be accessed much more easily than stock equity for purposes of making a purchase, as can retail money market mutual funds. For many people, these accounts function very similarly to the way conventional checking accounts used to, and such items get added to M1 to arrive at the broader money supply measure M2.
And then there is the now-no-longer-published M3. This added to M2 a number of liquid assets used by large institutions or wealthy investors, such as institutional money market funds, time deposits in excess of $100,000 with penalty for early withdrawal, repurchase liabilities of depository institutions, and dollar-denominated accounts held by someone with a U.S. address at certain foreign banks or foreign branches of U.S. banks.
I have to confess that in a quarter century of teaching and research, I never had any occasion to make use of M3. It always seemed to me that this unambiguously failed the definition of an asset that is used to pay for transactions. If you're going to include such assets in your concept of "money", why stop there? Don't you want to include T-bills as well, and if them, why not Treasury bonds? You have to stop somewhere, and I always stopped with M1 or M2.
In addition, a primary reason for focusing on the money supply for policy purposes is that it's a magnitude controlled by the government. The physical dollar bills are of course printed by the government, and a bank that issues checking accounts must hold credits that could be used to obtain physical dollars (known as Federal Reserve deposits) in a certain proportion to the value of the outstanding checkable deposits. However, it is unclear how the government is supposed to control the M3 components. Balances at foreign banks, for example, are clearly outside the control of the U.S. government.
I was thus a bit surprised at the brou-ha-ha that erupted over the Fed's decision to discontinue requiring banks to provide the data that was used to calculate some components of M3. These concerns continue to bubble up in comments from Econbrowser readers.
I'm aware of no evidence suggesting that M3 helps predict U.S. inflation or economic activity better than M2. In my previous post I noted the strong correlation over 1875-1985 between 10-year averages of M2 growth and nominal GDP growth, and the following slightly weaker correlation over the last 35 years: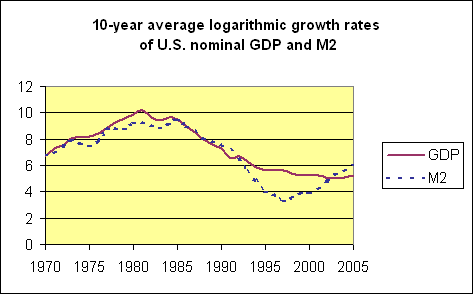 Here, for comparison, is the analogous picture for M3. Insofar as M2 and M3 have differed, M2 seems to have had a closer correspondence with economic activity.
Of course, the intriguing thing is that big surge in M3 growth relative to M2 of the last few years, which raises the possibility in some people's minds that U.S. inflation will suddenly start being fueled by eurodollars and large time deposits.
But if that happens, it will be something new.
---
Technorati Tags: M3,
inflation,
macroeconomics