Oil imports in the spotlight
The BEA/Census released the March trade figures this morning. The actual $62 billion (seasonally adjusted figure) was below the Bloomberg consensus of $67 billion. As Brad Setser has pointed out, the big drop was driven in substantial part by the decline in oil imports. This point can be seen in this graph.


Figure 1: Total goods and services trade balance and total ex petroleum and petroleum products imports, seasonally adjusted. Source: BEA/Census, March 2006 release.
The drop off in oil imports is interesting. I thought it would be useful to see what the past two years experience has implied for the quantity of petroleum and energy-related petroleum products over the past two years. To that end, I use the official statistics on quantities expressed in Ch.2000$ (rather than barrels, which would not control for the composition of imports, e.g., gasoline and diesel vs. crude oil; for a discussion of this measure, see this post). The graph below shows log quantity of oil and oil product imports for this year, and those lagged one and two years. If this pattern of oil imports holds up, then the quantity should again decline next month (although why this pattern should recur is a bit speculative, since the series is seasonally adjusted).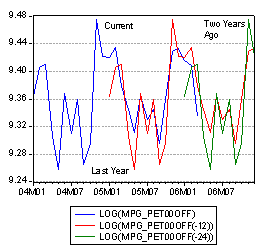 Figure 2: Quantity of petroleum and energy related petroleum product imports, in Ch.2000$, seasonally adjusted. Source: BEA/Census, March 2006 release.

However, since oil import prices rose 11.5% in April, the nominal value of total oil and oil related imports should probably rise next month. Hence, we should not expect relief on that front in the near future.

Technorati Tags: trade deficits,
oil imports,
oil prices